CHINA, DENMARK PROJECTS AMONG ARCHITECTURE AWARD WINNERS
AL AIN, United Arab Emirates (AP) — A children's center in China, a bridge in Iran and a park in Denmark are among the six winners of the Aga Khan Award for Architecture.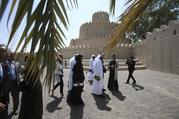 The winners were announced Monday in the historic Al-Jahili fort in Al Ain, United Arab Emirates. The awards are handed out once every three years and are meant to celebrate architecture that serves and embraces Muslim culture.
The network is headed by Aga Khan, the spiritual leader of millions of Ismaili Muslims who belong to an offshoot of the Shiite sect.
This year's winners included the Hutong Children's Library and Art Centre, which is located near a large mosque and Tiananmen Square in the Chinese capital, Beijing.
Judges also selected the Superkilen park in Copenhagen, Denmark, hailing it as a "public space promoting integration" among various religious and ethnic groups.
"Of course we are looking to award the diversity in the Islamic world, not just in the traditional Islamic world but also the Muslim communities that are outside the traditional Muslim world," said Mohammad al-Asad, a member of the award steering committee who heads the Center for the Study of the Built Environment in Amman, Jordan.
Other winners included the multi-level Tabiat Pedestrian Bridge in Tehran, Iran.
Two projects from Bangladesh also won the award – the Friendship Centre community center in Gaibandha and the Bait Ur Rouf mosque in the capital, Dhaka.
The sixth winner was the Issam Fares Institute for Public Policy and International Affairs in Beirut, Lebanon. It was designed by the firm of Iraqi-British architect Zaha Hadid, who died earlier this year.
Winners will receive their awards at a ceremony next month in Al Ain.