Alpine skier Jung aims for respect
By Kim Tong-hyung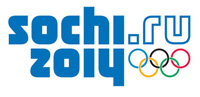 The Korean presence in alpine skiing has been close to anonymous, but Jung Dong-hyun is aiming to leave a lasting impression in the upcoming Winter Olympics in Sochi, Russia.
The 26-year-old, who first began skiing at the age of 8, has been the country's top athlete in the sport for more than a decade, winning a slew of medals in domestic and Asian competitions. His first Olympic appearance four years ago in Vancouver was a letdown as a thigh injury prevented him from completing the slalom event.
However, Jung has recovered nicely, winning the gold medal in the super combined event at the Asian Winter Games in Kazakhstan in 2011. He swept the slalom, giant slalom and combined at last year's domestic championships.
Jung hopes that his Sochi experience will be an example of luck evening out. He is aiming to improve on Hur Seung-wook's 21st-place finish in slalom at the 1998 Nagano Winter Games, which continues to stand as the best Korean Olympic performance in the sport.
According to his coach Choi Yong-hee, Jung's goal is to finish somewhere in the teens at Sochi. He fully expects to continue skiing into his 30s and improve his ability to the point where he could contend for hardware at the 2018 Winter Games held in the Korean ski resort of PyeongChang.
Other Korean alpine skiing athletes expected to join Jung in Sochi include 28-year-old veteran Kim Woo-sung, 23-year-old Park Je-yoon and 18-year-old Kim So-hee in the women's competition.
Korea, which has qualified for four spots in the men's competition and one in the women's, plans to announce its final Olympic team later this month.
Alpine skiing has four different disciplines ― downhill, super-G, giant slalom and slalom. While slalom has the shortest course, it is the most technically challenging competition as it has the quickest turns.
"Jung is athletically gifted and has improved on his skills and approach to the races. I believe he has a shot at finishing with a ranking better than No. 20,'' said Choi.