"You can't handle the truth!"
Korean baseball league mulling abolishing salary cap on international players: official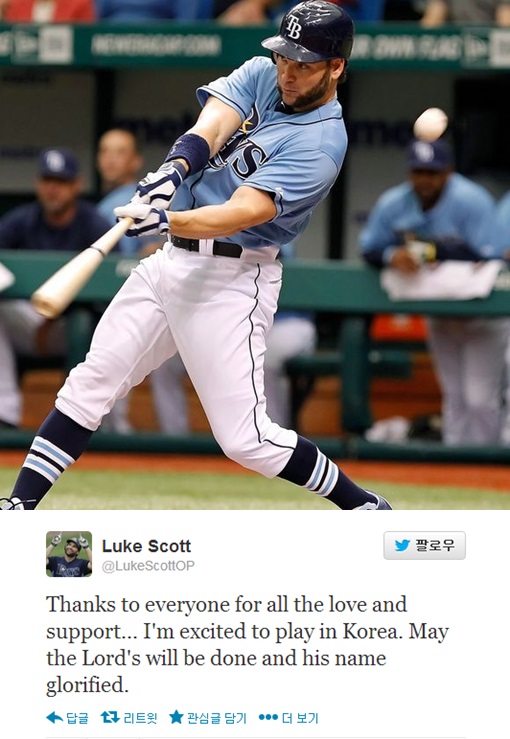 By Lee Kyutae
In regards to professional athletes' salaries in Korea, it's always been like that famous Jack Nicholson line from the 1992 movie 'A Few Good Men' – "You can't handle the truth!"
Well, times are changing, and the Korean Baseball Organization (KBO) is actually considering to tell the truth in regards to just how much those foreign players are getting paid, instead of routinely giving politically correct figures – which are always right on, or just below the league-imposed salary cap.
But a series of big name transactions this off-season must have made even those Korean baseball officials blush, or at least grin, since general managers in the Korean league are now considering abolishing the salary cap imposed on international players, a senior league official said Friday.
According to Yang Hae-young, secretary general of the KBO, the general managers of the 10 clubs agreed "in principle" to eventually get rid of the current cap of US$300,000 during their meeting this week. Yang insisted, however, that no immediate change is forthcoming.
The KBO first opened its doors to foreign players in 1998, with their initial salary cap set at $120,000. The figure was raised to $200,000 in 1999 and then to $300,000 in 2004. Foreign players may only be signed to one-year contracts, and if they are renewed, their annual salary must not be raised by more than 25 percent.
League officials have said they put the cap in place to prevent wealthier clubs from signing expensive stars and to avoid excessive salary inflation. And, the public sentiment of whe-hwa-nang-bi (which literally translates to foreign currency waste – meaning excessive foreign spending) plays a role here.
But the general consensus is that no one plays by the rules. Not in baseball, soccer, basketball, volleyball, or any other league in Korea.
Even an official with a KBO team who requested anonymity told Yonhap News Agency that it's "the worst kept secret in the league," as they've long had rumors of two million dollar players.
Also, foreign newspapers or beat writers of the players' former minor league teams have often revealed the new signees' salary figures to let the cat out of the bag.
New faces this winter include former Major League Baseball (MLB) regulars such as Jorge Cantu, who signed with the Doosan Bears, and Luke Scott, who joined the SK Wyverns. In both cases, the announced contract figure is $250,000 in annual salary along with another $50,000 in signing bonus, even though Scott made $2.75 million with the Tampa Bay Rays in 2013.
Some Koreans would like for you to believe that those players love Korea and hallyu so much that it's not so strange for them to take a huge pay cut to play in Korea, but in Cantu's case, he re-tweeted an earlier message by a Mexican journalist who claimed that Cantu had signed for $600,000 with the Bears and that the player could make up to $1 million with performance-based incentives.
The KBO says it's gotten to a point where they are considering bringing back a tryout and draft system like the basketball leagues are doing in Korea.
The Women's Korean Basketball League (WKBL) had banned foreign players for five years after WNBA MVP Lauren Jackson of Seattle Storm showed up to play for Samsung – supposedly for the standard WKBL salary of $30,000 per month, when she commanded 3-4 times that amount in countries like Russia at the time.
The Korean Volleyball league, KOVO, is also considering turning to a tryout and draft system, as they've become one of the highest paying volleyball leagues in the world. The KOVO's foreign player salary cap is said to be $150,000 for women, and $280,000 for men, but it's widely believed that foreign players' salaries have reached seven digits.
In that case, the league would accept applications from interested players, and then teams would gather to watch them before selecting them in a draft. However, players like Luke Scott, Dustin Nippert, Lauren Jackson are not likely to go through tryouts, bringing the quality of players down, unless they are 'planted' by one of the clubs, which has happened quite often in the Korean Basketball League (KBL) tryouts.
The problem here is that the other teams may identify, but cannot 'intercept' the far superior 'planted player', since their signability is still an issue. Not knowing exactly how much was promised to that player to enter the tryout and draft, teams just don't risk losing their own draft pick (slot) to make the selection, allowing that player to pass through to the team that planted him.
In contrast, the Rakuten Golden Eagles of Japan, announced on Friday that they've signed the former Boston Red Sox and New York Yankees third baseman Kevin Youkilis to a one-year contract worth $5 million.