YG hosts hologram concert in London
By Chung Hyun-chae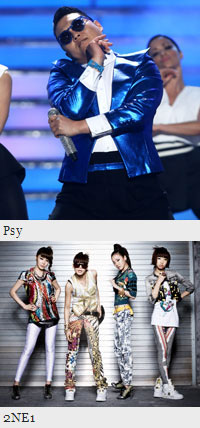 YG Entertainment said Thursday it will host a hologram concert in London from Nov. 4 through 6, featuring 3D images of Psy and 2NE1 singing and dancing to their songs.
This is the first concert of its kind to be held overseas with the inaugural performance of such introduced in Korea last year.
The upcoming concert will be held during the Korea Brand and Entertainment Expo 2013 (KBEE 2013) at Old Billingsgate, YG said. The show will feature 12-meter high holograms of the singers. 2NE1 will make an appearance during the show to celebrate the unprecedented event there.
YG established hologram developer Next Industry K in a joint venture with KT and d'stri, a tech start-up, last May. YG officials said the venue will be set up with huge media façades next to the holograms, which will provide a more dynamic and richer sound for the audience.
Domestic entertainment agencies have invested a lot in hologram performances, which allows them to cut down on the logistical costs of touring.
The nation's no. 1 entertainment agency SM Entertainment is also planning to open a 3D hologram theater at Universal Studios Japan in December.