WHOLE FOODS SAYS KEY SALES FIGURE FALLS AGAIN
NEW YORK (AP) — Whole Foods says quarterly sales at established locations declined again as it fights to distinguish itself from competitors that are also offering organic and natural foods.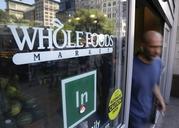 The company said Wednesday the figure was down 2.6 percent for the three months ended July 3, and negative for the current quarter so far.
To broaden its appeal, Whole Foods is working on keeping prices low, in part by pushing more of its 365 house brand products. It has also been opening a new chain named after 365 that would compete more squarely with Trader Joe's.
For the quarter, Whole Foods Market Inc. earned $120 million, or 37 cents per share, in line with Wall Street expectations. Total revenue was $3.7 billion, just short of the $3.72 billion analysts expected, according to FactSet.