Trump claim on N. Korean nukes may underestimate program
SEOUL, South Korea (AP) — U.S. President-elect Donald Trump took to Twitter to vow that North Korea won't develop a nuclear weapon capable of reaching parts of the United States. But it might already have done so.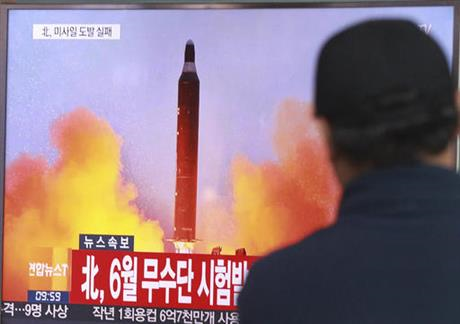 Views vary, sometimes wildly, on the exact state of North Korea's closely guarded nuclear and missile programs, but after five atomic test explosions and a rising number of ballistic missile test launches, some experts believe North Korea can arm short- and mid-range missiles with atomic warheads.
That would allow Pyongyang to threaten U.S. forces stationed in Asia and add teeth to its threat last year to use nuclear weapons to "sweep Guam, the base of provocations, from the surface of the earth."
Guam is a strategically important U.S. territory in the Pacific. Some experts see the U.S. mainland as potentially within reach in as little as five years if North Korea's nuclear progress isn't stopped.
Trump's tweet on Monday night U.S. time was in response to North Korean leader Kim Jong Un, who said Sunday in his annual New Year's address that preparations for launching an intercontinental ballistic missile have "reached the final stage." He did not explicitly say a test was imminent.
Trump tweeted, "North Korea just stated that it is in the final stages of developing a nuclear weapon capable of reaching parts of the U.S. It won't happen!"
The morning after the tweet, top aide Kellyanne Conway said that while Trump was putting North Korea "on notice," he was "not making policy at the moment." Conway, who will serve as Trump's White House counselor, said that as president, Trump "will stand between (North Korea) and missile capabilities."
North Korea, poor, suspicious of outsiders and governed by a third-generation dictator, is used to being underestimated and mocked. Few believed it could build a nuclear program that would keep U.S. presidents since the early 1990s up at night.
Armed to the teeth, acutely bellicose and not afraid to push tensions on the Korean Peninsula to the brink, Pyongyang could be among Trump's top foreign policy challenges.
Here's a look at how close North Korea may already be to proving Trump's tweet wrong:
___
THE NUKES
There's a general consensus that Pyongyang has made significant nuclear and missile progress under Kim, who took over after his father, Kim Jong Il, died in late 2011.
Kim has conducted three of the country's five total nuclear tests, including two last year. Propaganda out of Pyongyang makes clear that North Korea views nuclear weapons as essential to keeping at bay U.S. and South Korean forces it says are intent on its destruction.
Some U.S. experts believe North Korea may have enough fuel for about 20 bombs and can add a possible half dozen more each year.
Fuel is one thing; it's much more difficult to develop the technology needed to build bombs small enough to fit on missile tips.
Each new nuclear test, however, pushes the North another big step toward its goal of an arsenal of nuclear missiles capable of hitting the U.S. mainland.
___
THE MISSILES
Outsiders don't know for sure whether North Korea can arm any of its ballistic missiles, regardless of range, with nuclear warheads yet.
But Siegfried Hecker, a leading North Korea nuclear expert, wrote after last year's September nuclear test that outsiders should now assume that Pyongyang has "designed and demonstrated" atomic warheads that can be placed on short- and possibly medium-range missiles.
North Korea may deploy a "working, nuclear-tipped ballistic missile" by 2020, according to another expert, Euan Graham, director of the International Security Program at the Lowy Institute.
North Korea has an arsenal of short-range Scuds and mid-range Rodong missiles, and some South Korean experts believe those can already be armed with nukes.
That would put in danger the roughly 28,000 U.S. forces in South Korea and another 50,000 in Japan.
While there's not a consensus, some South Korean experts also believe the North can place a nuclear warhead on the more powerful mid-range Musudan missile, which could target Guam, about 3,000 kilometers (1,900 miles) away. Last year, after a string of failures, North Korea launched a Musudan missile that some experts considered a success.
Kim Jong Un has already conducted more ballistic missile tests, including from submarines, in his short time in power than his father did during his entire 18-year reign, Graham wrote last year.
This has allowed "refinements" in solid propellants, road mobility and experiments with vertical launches to high altitudes that could complicate U.S. and Japanese missile defense systems' efforts to intercept, Graham wrote.
___
PUTTING IT TOGETHER
Even if North Korea can fit a nuclear weapon on a missile, it has yet to meet the even greater challenge of building a nuclear-tipped ICBM capable of hitting the U.S. mainland.
Since 2012, North Korea has conducted three satellite launches using long-range rockets, in what outsiders consider covers for banned tests of ICBM technology.
As with the nuclear detonations, each new rocket test puts the North closer to having a nuclear missile that can target the U.S. mainland. Hecker estimates that it may take North Korea five to 10 years to succeed.
___
CHINA'S ROLE
Another tweet from Trump criticized China, North Korea's most important ally, for not doing more to discourage its nuclear weapons program: "China has been taking out massive amounts of money & wealth from the U.S. in totally one-sided trade, but won't help with North Korea. Nice!"
While Beijing has publicly reprimanded Pyongyang after nuclear tests and has agreed to rounds of U.N. sanctions against the North, critics say China hasn't done enough to tighten economic pressure.
Chinese foreign ministry spokesman Geng Shuang said China's efforts and commitment to the dismantling of North Korea's nuclear program are "consistent and clear."
"The effort China has made to this end is obvious to all," Geng said in a regular briefing. "We hope all sides can refrain from speaking or doing anything that can aggravate the situation and work in concert to pull the issue back to dialogue and negotiation."
___
WHAT'S NEXT
Pyongyang has a habit of taking a swing at new U.S. presidents, so Trump may not have long to wait before getting a fresh look at North Korean nuclear or missile technology.
Or both: In 2009, a newly inaugurated Barack Obama was greeted with a nuclear test and a long-range rocket launch.