'The Handmaiden' wins rave reviews in English-spoken countries
SEOUL, Dec. 12 (Yonhap) — The South Korean film "The Handmaiden," the latest work by award-winning director Park Chan-wook, has received rave reviews from the U.S. and British media, increasing the prospects for a strong showing in the English-spoken countries.
The erotic thriller came in ninth out of the British daily Guardian's "50 best films of 2016 in the U.S."
About the two-hour-plus movie, Guardian's film critic Peter Bradshaw wrote, "The twists and turns of the story are dazzling, and the film sometimes feels like an intricately jeweled and mirrored prop that might be used by a stage magician of a distant age. It is a glitteringly strange and sexy film."
The reviewer gave high credit for Park's cinematic eroticism, and his handling of the story's whiplash narrative twist and resulting POV shift.
He wrote, "The sexuality drenches the superbly designed fixtures, fittings and fabrics of this film, and perfumes the intoxicating air that all the characters breathe."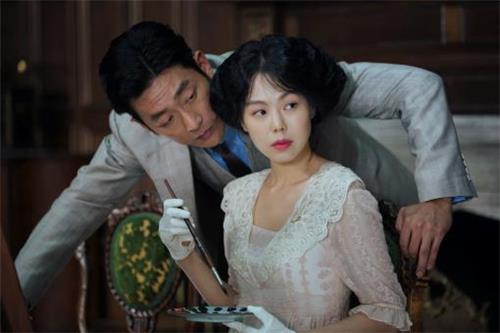 The South Korean film also ranked No. 8 on "The Best Movies of 2016″ list compiled by Manohla Dargis, a film critic of The New York Times.
She writes, "(The characters') delectable relationship takes them and the movie to places you might not imagine, while advancing an argument about gender, desire, erotica and pornography that is more complex than the movie's slickness suggests."
Loosely based on Sarah Waters' award-winning novel "Fingersmith," the film starring Kim Min-hee, Cho Jin-woong, Ha Jung-woo and Kim Tae-ri relocates the setting from Victorian Britain to 1930s colonial Korea. It tells the story of a young maid hired by a con man to seduce a wealthy heiress, only to fall in love with her.
Following its premiere at the 69th Cannes Film Festival, it was invited to various prestigious international festivals, including the Toronto International Film Festival and the Sitges International Fantastic Film Festival.