Smartphone market crowded after Jobs' magic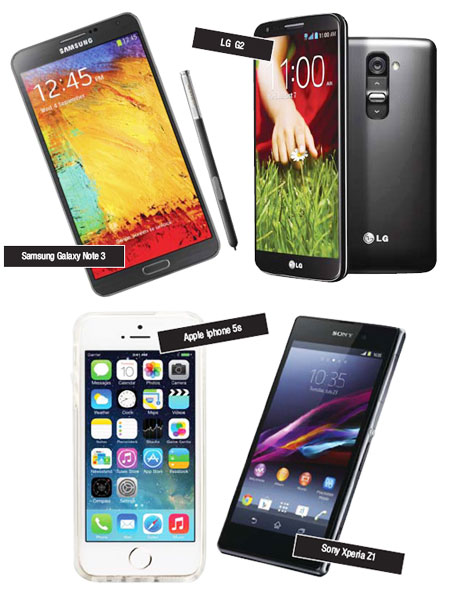 By Kim Yoo-chul
The global smartphone market is heading toward another "game of chicken," as was previously seen in the chip and flat-screen industries, as the smartphone market is increasingly flooded with new competitors.
Market analysts say that even though Samsung Electronics will maintain its current lead next year, Chinese competitors and Apple are fiercely challenging its dominance.
In a desperate bid to keep up, Apple dropped its long-running "one product a year" strategy by releasing a budget iPhone.
Although Samsung officials admit the need to stay ahead of its competitors next year, they also say that the company might see a decline in profits as the number of budget models increases.
Despite appearing modest about their revenue forecasts, company executives are nonetheless upbeat about profitability.
Samsung has outperformed Apple in terms of operating profits. According to Strategy Analytics (SA), a research institute, Samsung garnered 48.8 percent of the total operating profit generated in the global mobile phone market bewteen April and June. Apple followed with 48.3 percent.
This the first time that Samsung has overtaken Apple in operating profits, since SA started publishing profit data of companies in 2011.
During a meeting with local reporters last week in Seoul, Samsung's mobile chief and co-CEO Shin Jong-kyun confirmed the sale of more than 40 million Galaxy S4 smartphones since its debut in April this year.
"Over 40 million units of Galaxy SIV smartphones were sold," Shin told reporters. Over 10 million SIV smartphones were sold within a month after the product launched.
Samsung's bitter local rival, LG Electronics, is rapidly trying to secure its bottom line in smartphones, especially in China where they have only a negligible 2 percent share.
The competition is uncompromisingly fierce out there too. The SA data shows that Samsung and Apple have taken 97.1 percent of the total operating profit between them during the second quarter, with LG Electronics and Sony scraping a mere 0.5 percent each.
A new order prevails
After the dissipation of the so-called Jobs Magic, a new order in the market is emerging.
"The impression of a premium brand is no longer a deciding factor for consumers of new phones. Now the industry is seeing another kind of innovation entailing better pricing with competitive technology ­ not just a product's surface design," said an official at Samsung Electronics.
SA expects Samsung to take 31 percent of the market in 2014, followed by Apple with 15.6 percent. "The smartphone market has already been reshuffled, and people are interested in buying phones with competitive pricing and competitive features."
Analysts are confident that Samsung Electronics will experience stability in market share though not significantly in profitability. However, the one firm that still has the potential to disrupt Samsung's surge in the mid-end of the smartphone market is Apple.
Even without Jobs, Samsung still faces stiff competition. Tim Cook, Steve Jobs' replacement, is considered a genius in supply chain management.
He prefers to make decisions based on logic and estimated profit and is currently having to decide whether or not to compete more aggressively with Samsung.
Cook is still in the process of changing the corporate culture of Apple to reflect the new challenges of the industry.
At the same time, its rivals are releasing new products using Google's Android, which is good for consumers, according to James Song, an analyst at Daewoo Securities.
In a major strategy shift, Apple introduced a new budget model ­ the iPhone 5C ­ as well as the premium one iPhone 5S. Under the late Jobs, Apple had the tradition of releasing only one model each year.
"It's fair to say Apple won't be the leader in the next-phase of innovation. Amid the post-Apple era, there will be more competition," said Song of Daewoo.
To revive and maintain its competitiveness, Apple is, however, working on its first wristwatch that can be connected to all of its i-devices.
Samsung is producing more innovative devices as well, for example, its new smartphone with a curved display. Sony and Google are also creating new innovations as well.
Sony has now released its smart watch "MN2," while search giant Google is planning to release its Google Glass within the year using Samsung's OLED display technology.
"We sense increased urgency by competitors to expand their product lines in order to combat the inevitable growth slowdown and maturation of the smartphone industry, particularly the high-end," said Mark Newman, senior analyst at Hong Kong-based Sanford C. Bernstein.
"In Samsung's case, the company is expanding into the wearable device category with its Galaxy Gear smartwatch, a very different strategy from Apple, which has an extremely focused product line but is expanding for the first time into two separate products, the 5S and the slightly cheaper 5C," the research firm said.
"We have also seen LG Electronics and Sony recently diversify their product portfolios in an attempt to capture more of the market share. Samsung, Coolpad, Lenovo, Huawei and ZTE are currently the main players in the low-end smartphone market in China. However, Xiaomi is emerging as a new disruptive force," it said.
Apple after Jobs' death
Jobs left his legacy behind after his death. The Cupertino-based outfit became a huge firm under Jobs' charismatic leadership.
Under his watch, Apple stunned the world by introducing a product that had never existed, opening a wholly new chapter in the global mobile industry.
At that time, delicate design-focused feature phones were the industry's mainstream with leading handset manufacturers hiring more product designers to appeal to consumers.
Nokia was king, and it was impossible for even Samsung to challenge their leadership in the feature phone era. But things radically changed.
"Apple iPhones killed the competition. Because Apple was the originator of smartphones, Jobs' magic fully paid off as Apple had dominated the global smartphone market until 2010. To be honest, Samsung hadn't been prepared for smartphones as we thought feature phones would dominate the industry longer," said a Samsung official.
Consequently, Samsung earned less than 5 percent of the smartphone market from late 2009 and mid-2010.
While Samsung was moving toward smartphones, however, its local rival LG Electronics had seriously underestimated the effects of iPhones.
"LG was very passive in embracing changes. LG missed the timing and the results were catastrophic," said an official at LG Electronics.
"We at Samsung believed we could beat Apple as Samsung has huge advantages in manufacturing. While Apple is a marketing firm, Samsung's strengths on the other hand, lie in manufacturing with on-time delivery and output commitment," said another official at Samsung Electronics who wished to be attributed as Baek.
Samsung rose to become the biggest smartphone vendor from 2011 with a market share of 19.9 percent, followed by Apple and Nokia which garnered 19.0 and 15.8 percent respectively.
Part of the Korean company's success lay in very aggressive pricing supported fully by Google. Unlike Apple's iOS software, exclusively used in Apple devices, Google Android is based on an openness to work with other platforms. Samsung bets heavily on Google.
In a symbolic event, Nokia and Microsoft were subsumed by the rise of Google Android and Apple as both titans were not able to rapidly respond to the industry's new wave.
Jobs accused Samsung of copying its unique product and initiated several transnational suits against Samsung. He among other things accused Samsung of violating its patent but Samsung countered the accusation by arguing that Apple's claim hurt consumer choice.
The two companies are still involved in several legal disputes. Samsung's Shin recently said talks aimed at resolving the friction have stalled because of Apple's request for excessive royalties.