S. Korea's first Winter Olympics 500 days away
SEOUL, Sept. 26 (Yonhap) — The first Winter Olympic Games to be held in South Korea are now 500 days away, as the east coast host city of PyeongChang ratchets up its preparations.
PyeongChang, which lies some 180 kilometers east of Seoul in Gangwon Province, won the bid to host the 2018 Winter Olympics in July 2011. It will be held from Feb. 9 to 25 under the slogan "Passion. Connected."
PyeongChang 2018 will be the first Olympics in South Korea since the 1988 Seoul Summer Games.
A dozen venues in PyeongChang and its sub-host cities of Gangneung and Jeongseon will stage seven sports across 15 disciplines.
The PyeongChang Organizing Committee for the 2018 Olympic & Paralympic Winter Games (POCOG) estimates 95 countries will send about 6,500 athletes and officials to take part in its Olympics. They will vie for 98 gold medals at stake.
PyeongChang won the Olympic bid on its third try. It lost to Vancouver for the 2010 Olympics and then to Sochi for the 2014 edition.
PyeongChang then beat out Munich, Germany, and Annecy, France, for the 2018 Olympics.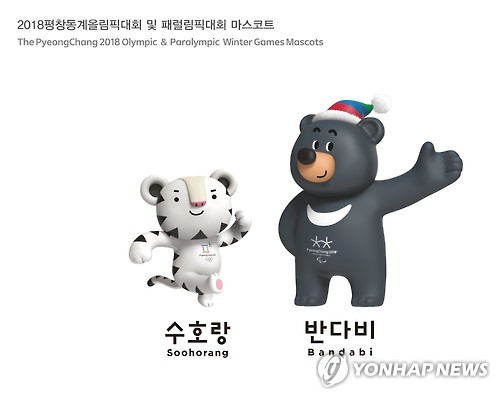 This image, provided by the organizing committee for the 2018 PyeongChang Winter Olympics, shows the mascot for the Winter Games, "Soohorang," and the mascot for the Paralympic Winter Games, "Bandabi."
The 12 venues are all located within 30 minutes of each other, and it's the compact venue concept that helped PyeongChang win the support of the International Olympic Committee (IOC) members.
The PyeongChang Mountain Cluster will be home to Alpensia Biathlon Centre, Cross-Country Skiing Centre, Ski Jumping Centre, Sliding Centre, Bokwang Snow Park and Yongpyong Alpine Centre.
Venues in Gangneung, some 60 kilometers east of PyeongChang, are Gangneung Curling Centre, Gangneung Hockey Centre, Gangneung Ice Arena, Gangneung Oval and Kwandong Hockey Centre.
Jeongseon Alpine Centre is the lone venue in Jeongseon, about 20 kilometers east of PyeongChang.
Six of the 12 venues are being constructed for the Olympics, while six existing facilities will also be used for the occasion.
The six new facilities are, on average, 86 percent complete, and they will be completed between December this year and December next year.
Representing the PyeongChang Olympics will be a white tiger dubbed "Soohorang." A white tiger is a mythological guardian in Korean folklore and is considered sacred.
"Sooho" means protection in Korean, and "rang" comes from the middle letter of "ho-rang-i," the Korean word for tiger.
Song Seung-whan, a veteran musical director best known for the popular non-verbal show "Nanta," will serve as the executive producer for the opening and closing ceremonies.
PyeongChang will put its event organizing skills to the test at a series of international winter sports competitions in the ensuing months. PyeongChang and its sub-host cities will host 26 Olympic and Paralympic test events in 20 sports — including snowboarding, short track speed skating, luge, figure skating, hockey and wheelchair curling — between November this year and April next year.
South Korea has set out to collect up to 20 medals and crack the top five in the medal race at home.
At the 2014 Sochi Winter Games, South Korea grabbed three gold, three silver and two bronze medals to rank 13th.
South Korea's best Winter Games performance came at Vancouver in 2010, when it won six gold medals and hauled in a record 14 medals total to finish fifth.
All 26 Winter Olympic titles by South Korea have come from ice events — short track, speed skating and figure skating. It is eyeing stronger performances in sliding events in 2018.