Republican Party platform calls N. Korea 'Kim family's slave state'
CLEVELAND/WASHINGTON, July 19 (Yonhap) — The U.S. Republican Party has adopted its new policy platform, calling for change in North Korea that it denounced as the "Kim family's slave state" and pledging to work toward ending the communist nation's nuclear weapons program.
North Korea was the first issue mentioned in the Asia Pacific part of the platform adopted on Monday, the opening day of the party's national convention in Cleveland, Ohio, in an indication of the significance the party attaches to the problem.
"We are a Pacific nation with economic, military, and cultural ties to all the countries of the oceanic rim and treaty alliances with Japan, South Korea, Australia, the Philippines and Thailand. With them, we look toward the establishment of human rights for the people of North Korea," the platform said.
"We urge the government of China to recognize the inevitability of change in the Kim family's slave state and, for everyone's safety against nuclear disaster, to hasten positive change on the Korean peninsula," it said of the regime of Kim Jong-un.
It also said that the U.S. will "continue to demand the complete, verifiable, and irreversible dismantlement of North Korea's nuclear weapons program with full accounting of its proliferation activities," and pledged to "counter any threats from the North Korean regime."
Highlighting electromagnetic pulse (EMP) threats, the platform said the North has nuclear missiles.
"A single nuclear weapon detonated at high altitude over this country would collapse our electrical grid and other critical infrastructure and endanger the lives of millions. With North Korea in possession of nuclear missiles and Iran close to having them, an EMP is no longer a theoretical concern — it is a real threat," it said.
But the platform did not include controversial proposals by its presidential candidate, Donald Trump, such as his demand that U.S. allies, such as South Korea and Japan, pay more for American defense support or U.S. troops should be withdrawn from the countries.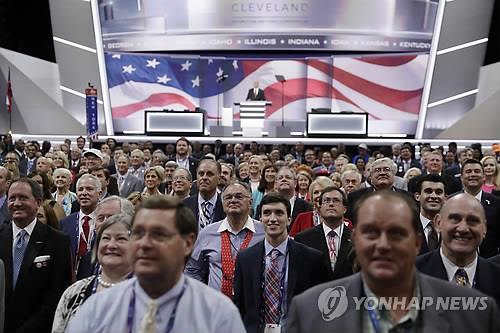 On trade, however, the platform embraced many of the tough positions Trump has taken on the issue under his "America first" foreign policy, and said the U.S. needs "better negotiated trade agreements."
"When trade agreements have been carefully negotiated with friendly democracies, they have resulted in millions of new jobs here at home supported by our exports. When those agreements do not adequately protect U.S. interests, U.S. sovereignty, or when they are violated with impunity, they must be rejected," the platform said.
It said the U.S. should not allow foreign governments to limit American access to their markets while stealing its designs, patents, brands, know-how, and technology. China should not be allowed to continue its currency manipulation, exclusion of U.S. products from government purchases, and subsidization of Chinese companies to thwart American imports.
"Republicans understand that you can succeed in a negotiation only if you are willing to walk away from it. A Republican president will insist on parity in trade and stand ready to implement countervailing duties if other countries refuse to cooperate," it said.
Trump has expressed deeply negative views of free trade.
In an economic policy speech early this month, the billionaire real-estate tycoon claimed that the free trade deal with South Korea enlarged U.S. trade deficits and cost American jobs. He called the pact, which has been in effect since 2012 and is considered a symbol of the economic alliance between the two countries, "a job-killing deal."
Trump also vowed to pull out of the yet-to-be-ratified, 12-nation Trans Pacific Partnership if elected president. He also said he would immediately renegotiate the North American Free Trade Agreement to get a better deal, and withdraw from the deal unless Canada and Mexico agree to a renegotiation.