PROTESTERS GATHER IN LOS ANGELES OVER FATAL POLICE SHOOTING
LOS ANGELES (AP) — Protesters gathered for a second night in Los Angeles over the deadly police shooting of an 18-year-old black man.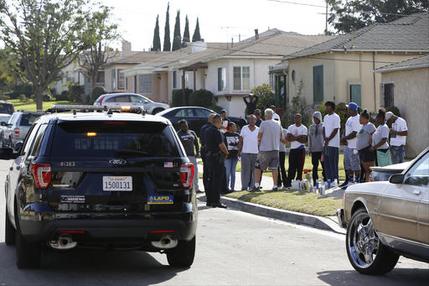 Demonstrators blocked an intersection Sunday night near the home of Carnell Snell Jr. The rowdy crowd included at least three car drivers doing donuts on the street and several others spray painting graffiti as officers stood by.
The Los Angeles Times reported that the crowd dwindled as the night wore on and police in riot gear eventually swarmed to move about a dozen people away from the area. Police told the paper that four people were arrested.
There were small protests in the same area a night earlier and at the residence of Mayor Eric Garcetti.
In a statement, Garcetti urged everyone to wait for "the completion of a thorough and proper investigation."
Earlier Sunday, activists called on Los Angeles police to publicly name the officers involved in the shooting, which occurred near Snell's home. They also appealed for a quick and transparent investigation.
"We don't want to see a cover-up. We don't want to see a whitewash," Earl Ofari Hutchinson of the Los Angeles Urban Policy Roundtable said after meeting with the Snell's family. "We have a family that's grieving. We have a community that's grieving."
The shooting occurred Saturday afternoon. Los Angeles police say they tried to pull over a car with paper license plates at about 1 p.m. After a short chase the driver and a passenger got out and fled. The passenger ran in back of a house, where he was shot. The driver escaped.
The coroner's office confirmed Sunday that Snell was the man killed. His family lives in another house in the front of the property where the shooting occurred. A back gate there was riddled with six bullet holes.
Police have disclosed little about their investigation other than to say a handgun was found at the scene. It was not clear if Snell was carrying it.
In a statement, the LAPD said investigators will gather evidence related to the shooting to determine whether deadly force was necessary and the district attorney's office will review it to see if any criminal charges are warranted.
Snell was the third black man in five days to die in confrontations with police in Southern California. Last Tuesday, Alfred Olango was fatally shot by an officer in the San Diego suburb of El Cajon, triggering three days of angry and sometimes violent protests. Olango was shot when he took a "shooting stance" and pointed at an officer with what turned out to be a 4-inch vape pen – an electronic cigarette device.
On Friday, Reginald Thomas died after being shot with a Taser by police in Pasadena. He was armed with a knife and his wife described him as mentally ill. His brother told a 911 dispatcher that Thomas was high and had a history of violence.
In Snell's South Los Angeles neighborhood of small stucco houses and well-kept lawns there was a makeshift shrine of flowers and candles in front of the property where he died.
Christine Conley, a next-door neighbor of Snell's for 10 years, described the teenager she knew as "CJ" as cheerful and polite, someone who liked to dress nicely and didn't sport gang clothing or tattoos.
She knew he had been in jail but didn't know why. A Los Angeles County Sheriff's Department website indicated that Snell was arrested in January and released from jail on probation in June. It did not describe the nature of the offense.
""He's never given me any problems. He's always been respectful and kind," Conley said. "He was always happy."
She said there is outrage in the black community "because of the way police handle our people."
"If he was any other race than black, he may have had another chance," she said.