Prosecutors to call in former CEO of Daewoo Shipbuilding over alleged accounting fraud
SEOUL, June 26 (Yonhap) — The country's prosecutors will probe what they think is a key figure in the on-going investigation of accounting fraud at Daewoo Shipbuilding & Marine Engineering Co. (DSME), officials close to the ongoing investigation said Sunday.
The special investigation team of the Supreme Prosecutors' Office said Nam Sang-tae, a former CEO who headed the embattled shipyard from 2006-2012, will appear at the prosecutor's office around 9:30 a.m. Monday to answer questions over his alleged role in the company's fraudulent accounting and mismanagement.
Nam is suspected of giving business favors to a contractor owned by a friend of his from college, in return for receiving shares of the firm and dividends.
According to the investigators, they secured evidence that showed Nam misused the company's money to buy up shares of Busan International Distribution Center (BIDC). His friend holds a majority stake in BIDC.
He is also accused of deliberately turning a blind eye to the massive accounting fraud at the company and engaging in illicit lobbying activities to government officials and political heavyweights.
Separately, the prosecutors found that accounting fraud amounting to 5.4 trillion won (US$4.6 billion) over three years from 2012 to 2014, when DSME was under the leadership of former CEO Koh Jae-ho.
"We believe the fraudulent accounting happened so that management could secure bank loans, sell company bonds, invest in the stock market, or receive a bonus," said a prosecutor familiar with the matter.
"It is a grave and serious problem that indicates systematic accounting fraud at Daewoo Shipbuilding, which is practically a government-backed company," he said.
The official said Koh is expected to be summoned to answer questions.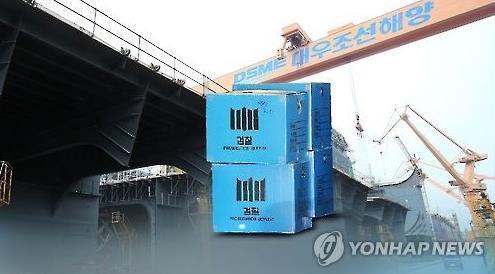 jaeyeon.woo@yna.co.kr