No 'what-ifs' for Lee Min-ho
Hallyu's next-generation actor expects busy 2014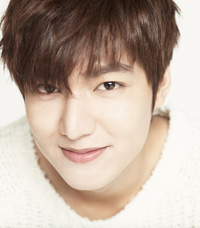 By Kim Ji-soo
For an actor to take on a seemingly reprising role that launched him into stardom must have been a risky and weary decision, one that could easily prompt speculation about complacency and "what-ifs" in the case of failure.
But Lee Min-ho, 26, took on such a role in the SBS drama "The Heirs." The result? Another layer of gold added to the star he first achieved with "Boys Over Flowers" (2009).
"I was pretty confident that I had surmounted the Goo Jun-pyo role of the 'Boys' with my other work, but I did have some concerns at the beginning of 'The Heirs.' So I went into the new role thankful that people still appreciated my former character and determined to show a whole new one," said Lee in an email interview with The Korea Times.
His latest role is a far more soulful portrayal of a high-school heir who falls in love with the daughter of a housemaid than his truculent one in the "Boys," which was a Korean adaptation of the popularJapanese drama "Hana Yori Dango."
Another boosting factor for the drama was that it was written by star scripter Kim Eun-sook and included a cast of popular actors, including love interest Park Shin-hye.
Kim has produced other popular television dramas such as the "Secret Garden" (2010) and "Lovers in Paris" (2004). Lee said that he had total trust in the staff for "The Heirs" that also made it easier for him to choose the work.
"Also, I resolved to do roles one could do only in their 20s. In the Heirs, I was the oldest wearing the high school uniform," Lee said.
The actor grabbed five awards at the network's end-of-the-year drama awards. At the ceremony, Lee said "thank you" to his fans in five languages — Chinese, Japanese, Thai, English and Korean.
"I first experienced hallyu (Korean wave) fans with the 2009 drama Boys. It was a small gesture to express gratitude to fans in Korea and overseas who have given me continued support over the years," Lee said.
"I had a Japanese fan who came up to me to thank me for 'City Hunter.' She told me she had been despondent after losing her son when she watched the drama. What she said touched my heart. Those experiences make me realize I have a big responsibility as an actor in Korea and outside it," he said.
Lee is wildly popular in China. Indeed, the former model has big facial features yet his eyes, at times playful, can turn plaintively soulful just as those of Chinese actors such as Chow Yun-fat and Tony Leung. His Madame Tussaud wax figure will be on loan from Shanghai to be exhibited in Hong Kong from Jan. 13 through March 31.
"I heard the Chinese fans really liked City Hunter. I think that they appreciate strong male characters who are devoted to one woman in love. I also heard that they liked the lyrical romantic ambience in 'The Heirs,' Lee added.