MICKELSON ON A MISSION TO WIN A TOURNAMENT OR VARDON TROPHY
NORTON, Mass. (AP) — Phil Mickelson rarely feels this much urgency when the majors are over.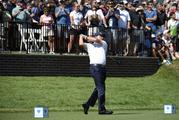 Not because of the Ryder Cup.
Not even because of the $10 million bonus for winning the FedEx Cup.
"We can all throw out stats that are self-promoting," Mickelson said Thursday at the Deutsche Bank Championship. "But this is the first time I've ever led the tour in scoring. That's a really good sign for me because the only statistic that matters is what you shoot. The fact I've led the tour in scoring but don't have a win would really validate … all the things I've had going this year.
Mickelson still hasn't won in three years dating to the British Open at Muirfield.
It just doesn't feel like it to him.
He qualified for his 11th consecutive Ryder Cup team, perhaps the greatest testament to his high level of play over two decades. Mickelson played in his first Ryder Cup when Tiger Woods was in college and Jordan Spieth was in diapers.
Lefty is No. 10 in the FedEx Cup going into the second playoff event, making him virtually a lock to be in the Tour Championship.
But what really gets his attention is that scoring average of 69.21, a slight lead over world No. 1 Jason Day, with U.S. Open champion Dustin Johnson not too far behind. Three tournaments are left before the Vardon Trophy is awarded for the lowest adjusted average.
That's an award Mickelson has never won.
"I would have remembered that," he said with a grin.
Maybe because Mickelson, already in the Hall of Fame, has never won any award. It's one of the most peculiar footnotes in what otherwise is a sterling list of accomplishments.
He was poised to win the PGA Tour money title and PGA Tour player of the year in 1996 until Tom Lehman won the season-ending Tour Championship at Southern Hills and beat Mickelson out in both. Woods turned pro the next year and won every award just about every year. And whenever Woods was going through a swing change, someone else was having a career season – David Duval in 1998, Vijay Singh in 2004.
Luke Donald and Lee Westwood have reached No. 1 in the world.
Phil Mickelson holds the Official World Golf Ranking record for being No. 2 the most weeks (the equivalent of more than five years).
He was on the front of the 18th green in two at Pebble Beach, needing to get up-and-down to force a playoff with Vaughn Taylor, the No. 447 player in the world. Mickelson, a five-time winner at Pebble Beach, missed a 5-foot putt and lost by one.
He was runner-up in at the St. Jude Classic, and the most cruel runner-up finish was a month later at Royal Troon, where Mickelson had a putt for 62 spin out of the cup in the opening round, and he wound up on the short end of a magnificent duel with Henrik Stenson.
"I've had a really good year for me, without a win," he said.
No doubt, it's more difficult now. Mickelson believes if he had played this way a generation ago, he probably would have had at least two wins. The fields are stronger than ever, and deeper. He doesn't have to be perfect, but he has to be better. Someone is always waiting to pounce on the slightest mistake.
"There's a lot of players out here that work on their weaknesses and make them strengths," Mickelson said. "But when Tiger would play at his best, it was almost impossible to beat him. Here, we have a number of players who when they play their best, it's tough. But they're beatable."
Mickelson credits his switch to Andrew Getson, the Phoenix-area golf instructor, for helping with his improvements. He is driving the ball better, keeping it in play more often. His irons are better and he's had what he considers a great year with the putter.
"I've had more bogey-free rounds that I've had in a long time," Mickelson said. "I had two of them at the British Open, and that's unheard for me. I think I had one ever, and now two in a four-day stretch."
But still no trophy, and that still drives him.
He has won the Deutsche Bank Championship. He has won the Tour Championship. He would take either one. He has never won the FedEx Cup, which would require the kind of timing that never seems to go his way.
As for the Vardon Trophy? That would be a great consolation prize if he doesn't win.