MCILROY CAN'T MAKE A PUTT AND NOW TRIES TO MAKE THE CUT
SPRINGFIELD, N.J. (AP) — Two holes into the final major of the year, Rory McIlroy was starting to lose patience.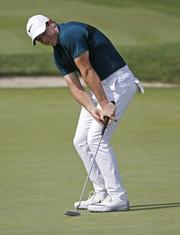 He missed a 10-foot birdie putt on his opening hole at No. 10 on Thursday. He hit another beautiful approach into the 11th hole at Baltusrol, 10 feet below the hole, and missed that. Even after Phil Mickelson and Jason Day had left the green, McIlroy stayed behind, looking at the cup from a different direction.
It was a precursor for more misery with his putting at the PGA Championship.
When his opening round ended, McIlroy had 35 putts and no birdies. His 4-over 74 was the first time he failed to break par in the opening round of the PGA Championship.
"You give yourself chances the first couple of holes, you don't convert," he said. "You want to get off to a good start. I feel like if I had holed one of those first two, it might have been a different story of the day. You get a little momentum and you get it going."
Instead, it kept sliding in the wrong direction.
His 8-foot par putt on the 13th never had a chance. His 5-foot birdie putt on the 17th never got to the hole.
He believes he is driving the ball as well as ever, which goes a long way at Baltusrol. His irons felt good, except for a few loose ones.
"Just when I get on the green, it's a different story," he said.
McIlroy was at least nine shots behind after one round, and that doesn't bode well. In his four victories in the majors, he was never more than one shot behind. The only major he won with any round over par was a 75 in the wind at Kiawah Island four years ago in the PGA Championship.
"I haven't won this tournament from this position before, so I'll need a low one tomorrow," McIlroy said. "I think first and foremost, I have to play a good round to get into the weekend tomorrow. That's the first objective, and then go from there."
This is the second major this year that McIlroy has put himself well behind after the opening round. He never recovered at Oakmont, missing the cut in the U.S. Open.
Making it even more pressing is that he is on the verge of going a second straight year without a major. Putting has been a problem all year, dating to February when he decided to switch to a cross-handed grip as he prepared for the Masters.
This time, he felt he simply was tricked by poa annua greens that look faster than they really are.
"I'm struggling with the pace," he said. "I think you saw out there, there was a couple of putts from quite a short distance that I left short. That's the thing that sort of surprised me all week. They look much quicker than they are. They look much quicker than they putt. … So I just need to be a little bit more aggressive, a little bit more free flowing with my stroke. Because when I did hit a couple by, I was able to hole the ones coming back."
Thursday was no time to practice. The heat was oppressive and drained everyone of energy. McIlroy decided to head back to his house, rest and perhaps come back Thursday evening and hit some putts "when it cools off."
"Not that it cools off that much in the evening," he said. "I'll try to do as much as I can and not wear myself out."
Even as he left Baltusrol, he was confronted with a score on his card that he didn't see coming. Given the chances he had, he figured something around par would have been the worst he could post. Instead, only three tour players had a worse score among the morning wave.
And that card didn't have any birdies on it.
"I can't remember the last time I went without a birdie," he said. 'I'll stay as patient as I can and as hard as I can and hopefully turn it around."