MCDONALD'S SALES DISAPPOINT IN US DESPITE ALL-DAY BREAKFAST
NEW YORK (AP) — McDonald's is again looking for ways to win back customers, less than a year after launching a widely touted all-day breakfast menu that makes Egg McMuffins available around the clock.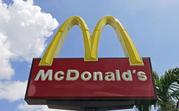 The world's biggest burger chain said sales rose a disappointing 1.8 percent at established U.S. locations for the three months ended June 30. That's even with the benefits from all-day breakfast, which began in October.
During the company's earnings call Tuesday, CEO Steve Easterbrook, who is fighting to reverse three years of declining customer visits to U.S. outlets, promised "even more news" soon related to McDonald's push to improve the image of its food.
But the efforts to catch up to changing tastes come at a tough time for the restaurant industry.
Heightened competition will likely limit sales growth for companies, said Jefferies analyst Andy Barish. He noted that people's options for eating out or dining in "have increased tremendously," particularly with the emergence of smaller chains and independent concepts.
That has prompted chains to push more deals in the fight for customers. Wendy's has been promoting a "4 for $4″ meal deal, while Burger King recently said it would start a promotion for $1 hot dogs.
McDonald's Chief Financial Officer Kevin Ozan noted that grocery prices are expected to be flat to up about 1 percent for the year, while the cost of eating out is expected to rise by up to 3.5 percent.
Last week, Dunkin' Donuts said its customer traffic slipped after franchisees hiked menu prices to make up for higher labor costs. Starbucks said traffic was flat from a year ago, and that its results were pressured by weakening consumer confidence and political uncertainty – a sentiment echoed by McDonald's.
That's the environment McDonald's is trying to navigate while confronting one of its most fundamental problems: the perception that its burgers and fries are processed junk food. Already, the company has switched to butter from margarine for its Egg McMuffins, and is testing Chicken McNuggets made without artificial preservatives.
At its restaurants, McDonald's is also trying to increase speed and cut down on wrong orders – one of the biggest reasons for unhappy customers. Easterbrook cited the potential of self-order kiosks and the McDonald's mobile app to take out "many of those human interactions where complications can arise."
In the meantime, McDonald's still appears to be struggling to attract more customers. It said the sales bump in the most recent quarter reflected a 3 percent price increase and people ordering items that tend to cost more.
But McDonald's noted that it was the fourth straight quarter in which comparable-store sales rose in the U.S., despite "softening industry growth."
To boost results, McDonald's has also been closing underperforming stores. It ended last year with fewer stores in the U.S., its first contraction after decades of expansion. It is on track to shrink its domestic store base of more than 14,000 again this year.
Globally, McDonald's said sales rose 3.1 percent at established locations. That included a 2.6 percent increase in the division that includes established markets like the United Kingdom, Canada and Australia. The high-growth segment, which includes China and Russia, saw a 1.6 percent increase.
For the quarter, McDonald's earned $1.09 billion, or $1.25 per share, including a 20-cent negative impact from restructuring charges. Analysts expected $1.39 per share, not including one-time items.
Total sales were $6.27 billion, in line with Wall Street forecasts, according to FactSet.