Magnitude-4.5 quake hits southeastern S. Korea
SEOUL, Sept. 19 (Yonhap) — A magnitude-4.5 earthquake struck near Gyeongju in southeastern South Korea, the weather agency said Monday, a week after two strong earthquakes jolted the same city.
The Korea Meteorological Administration (KMA) said the quake took place at 8:33 p.m. with the epicenter located some 11 kilometers south of Geongju city.
The KMA said the latest quake was an aftershock of the earthquakes that occured on Sept. 12. The earlier quakes registered magnitudes 5.8 and 5.1, respectively, with the former being the strongest temblor detected by the KMA around the Korean Peninsula since 1978.
The Ministry of Public Safety and Security said emergency centers in Daegu, Ulsan and North Gyeongsang Province — two major cities near Gyeongju and the province where the quake-hit city is located — received a total of 11 reports of damage.
Firefighters were sent to the sites where damage reportedly occured for on-site inspections, the ministry said.
As of 9:30 p.m., there were a total of 11,381 reports of people feeling tremors from across the country, it said.
Prime Minister Hwang Kyo-ahn instructed officials to determine the extent of the damage from the aftershock and provide real-time information to the general public.
Hwang also instructed officials to "maintain an emergency readiness posture and be thoroughly prepared" to cope with the situation surrounding the latest aftershock.
There were no immediate reports of major damages caused by the aftershock, with the Korea Hydro & Nuclear Power Co. (KHNP), the country's nuclear power supplier, reporting that all of its reactors are operating normally.
Fire stations in Busan, South Korea's largest port south of Gyeongju, received thousands of quake-related reports, while some residents in Seoul, 371 km northweest of the epicenter, said they felt the tremor.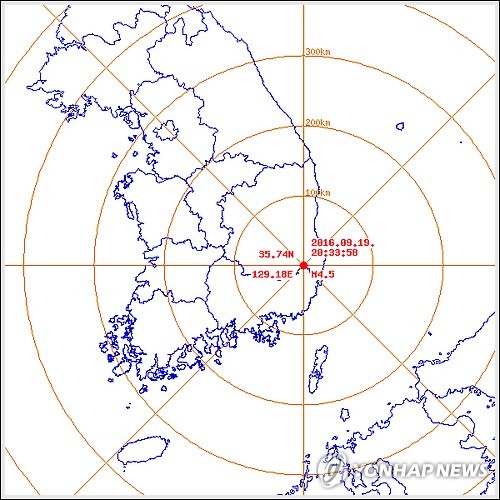 The KMA said Monday's quake was the biggest aftershock among about 300 tremors detected since Sept. 12.
Unlike the quakes that occurred a week ago, when services of the nation's biggest mobile messenger app KakaoTalk were partially disrupted apparently due to heavy traffic, the service provider reported no problems this time around.
Some subway lines in Busan stopped for about one minute, but resumed operation, while a number of highspeed KTX trains were operating at slower speeds as a precautionary step.
Hyundai Motor Co., South Korea's No. 1 carmaker said it temporarily halted some production lines in Ulsan, near Gyeongju, for inspection.
TV stations showed video footage of people in Gyeongju, Daegu and Busan rushing out of their apartments scared by the tremor.