Lotte Group shocked by No. 2 man's suicide
SEOUL, Aug. 26 (Yonhap) — Employees at Lotte Group, South Korea's fifth-largest conglomerate, were shocked Friday by the news that its No. 2 man had died ahead of his planned appearance before prosecutors for questioning over his role in a series of scandals.
Lee In-won, the group's vice chairman, was found dead in Yangpyeong, south of Seoul, earlier in the day in an apparent suicide, according to the police.
Lee has been regarded as one of the closest aides to Lotte Group Chairman Shin Dong-bin.
"He might have been put under emotional pressure (before the prosecutors' summons)," said a high-ranking official at the group.
Another official added, "Lee was respected by Lotte employees for his faithful and reasonable management style. He was a devout Christian and highly ethical."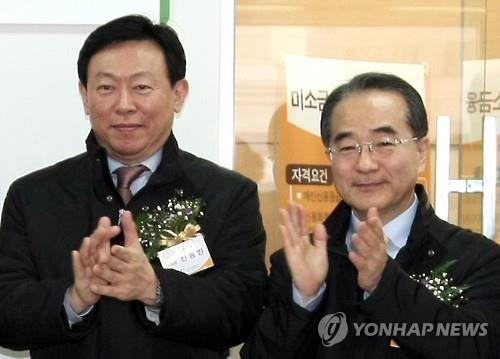 The 69-year-old Lee had worked for Lotte for 43 years and served as the chief of Lotte's policy headquarters, a control tower, until recently.
He oversaw the group's overall affairs and rose to the post of vice chairman in 2011 with the owner family's support.
Lee joined Lotte Hotel in 1973 after studying Japanese at Hankuk University of Foreign Studies and became CEO of Lotte Shopping in 1997. He was the longest serving CEO among the nation's 500 largest companies.
Lotte has been embroiled in a bitter succession feud between two sons of group founder Shin Kyuk-ho. His second son, Dong-bin, has tightened his grip on the retail giant after winning a landmark victory against his elder brother Dong-joo in a series of shareholders meetings.
Dong-joo has claimed he is his father's hand-picked successor and is currently caring for his 93-year-old father, who has been hospitalized, in what could be a move to project the image that he is the heir. But Dong-joo has failed to win back shareholder support.
Following the succession fight, Lotte faced a series of prosecution probes into lobbying and slush fund allegations.
Lotte Homeshopping Co., the retail giant's TV channel, has been under investigation on suspicions it intentionally cut the number of executives and employees implicated in a bribery scandal to renew its license for another three years in April 2015, which was discovered by state auditors in February.
Lotte Chemical Corp., a chemicals-making affiliate, is also facing an investigation over a string of irregularities, including alleged tax corruption.
Shin Young-ja, the eldest daughter of the group founder, has been imprisoned on a string of corruption charges, including embezzlement and bribery.
Lotte was founded as a confectionery company in postwar Japan in 1948. Shin Kyuk-ho later expanded the business to his home country when normalized diplomatic ties between Seoul and Tokyo enabled foreign business investments.
The conglomerate has been expanding its presence by adopting an aggressive M&A growth strategy under the leadership of hard-driving Dong-bin.
According to corporate tracker CEO Score and industry sources, Lotte bought 21 firms through M&As worth 7.6 trillion won ($6.59 billion) between 2010 and 2015, the largest among the country's top 10 conglomerates.