Je Suis Charlie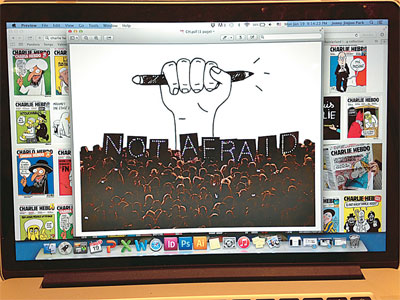 On January 7, 2015 the office of Charlie Hebdo, a satirical magazine, was attacked by two terrorists, resulting in the death of ten journalists and two police officers in Paris, France. It was deemed the largest terrorist attack in the city.
Most of all, it was brutal, calculated, and horrific; the attack was planned and motivated by pure rage.
The gunmen behind the Charlie Hebdo shooting were identified as Said Kouachi and Cherif Kouachi, brothers who were later killed by police and French Special Forces. The suspects are alleged to have attacked the newsroom in an attempt to avenge the defamation of Prophet Mohammed and fellow Muslims since the magazine often depicted the Prophet and Muslims in various degrading poses and scenarios. For example, in one of Hebdo's past issues, the prophet is shown posing naked for the camera and another issue portrays a male follower of Islam kissing a western man.
A video released by al-Qaeda in Yemen (AQAP) confirmed that the brothers were guided and financed by the extreme terrorist organization to carry out the attack.
After the assault, the French magazine published a survivor's issue featuring a cartoon of the Prophet holding a banner that reads, "Je Suis Charlie" and the words "All is Forgotten" written along the top of the cover.
According to the BBC News, the Islamic State (IS) militant group threatened the publication once again after seeing the survivor's issue, and called Charlie Hebdo's attempt at asserting its right to freedom of press and expression "an extremely stupid act."
In a show of solidarity, approximately 3.7 million people, including dozens of world leaders, gathered at the Place de la Nation and in other areas across Paris in order to march and pay tribute to those recently killed by the terrorists. Although the city is mourning the innocent deaths of these brave journalists, the tone is optimistic because the people know that soon, terrorism will fall.
"It is insane that innocent people were killed just because they voiced their opinion," said sophomore Maria Carias. "We have freedom of speech in the 21st century. If [the terrorists] don't believe that, they are in the wrong era."
Jenny Park
Fairfax High school 10th Grade