HONDA 2Q NET PROFIT UP 39 PERCENT, RAISES FULL-YEAR FORECAST
TOKYO (AP) — Honda Motor Co.'s net profit in July-September jumped 39 percent from a year earlier to 177 billion yen ($1.7 billion), helped by strong sales of its sport utility vehicles in China, the company said Monday.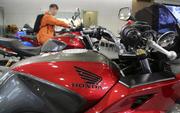 The company on Monday upgraded its forecast for its fiscal full-year net profit to 415 billion yen ($3.96 billion), from an earlier estimate of 390 billion yen.
The Tokyo-based company, which makes the Accord sedan and Asimo robot, expects to sell 4.98 million vehicles in the fiscal year that ends March 31, up slightly from its earlier estimate for 4.92 million and a 5 percent increase from a year earlier.
Sales of motorcycles were expected to fall slightly, while sales of power products are forecast to be flat.
The company said the strong demand for its upgraded Civic sedan and its XR-V and Vezel SUVs in China helped to support its strong performance, despite unfavorable currency trends that pulled its sales down nearly 10 percent from a year earlier in the July-September quarter, to 3.26 trillion yen ($31.1 billion).
Honda's profit fell 6 percent in the April-June quarter from a year earlier, as the automaker took a hit from massive air-bag recalls at its supplier Takata. Honda is one of Takata's biggest customers.
The company said it cannot fully anticipate all costs associated with the recalls of air bags that have caused at least 15 deaths worldwide.
Takata uses ammonium nitrate to create a small explosion to fill air bags. In some cases, the chemical deteriorates and burns too fast, blowing apart a metal canister and spewing shrapnel.
The strong yen, which reduces the earnings of Japanese exporters like Honda, has also hurt its results. Honda's latest forecasts are based on an exchange rate of 103 yen per U.S. dollar traded. The dollar was trading at about 105 yen per dollar on Monday.