Hollywood monster flick 'Colossal' releases photos of Korean filming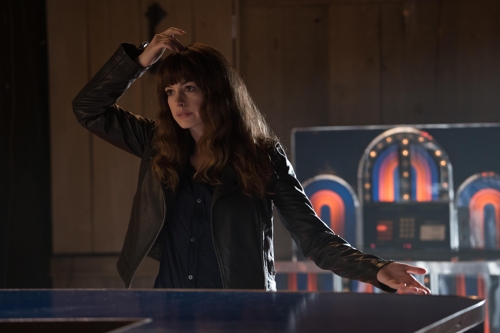 SEOUL, March 30 (Yonhap) — The Hollywood sci-fi action thriller "Colossal" unveiled photos of its South Korean filming Thursday to attract more interest from local movie fans ahead of its release next month.
In the new U.S. Sundance Festival-screened film, Anne Hathaway plays an unemployed, heavy-drinking woman named Gloria who is forced to leave her life in New York and move back to her hometown. When news reports surface that a giant creature is destroying Seoul, Gloria gradually comes to the realization that she is somehow connected to this far-off phenomenon.
Although the film is set in New York and Seoul, it was mostly shot in Vancouver, Canada, with only about 10 to 15 percent filmed in Seoul and Bucheon, a city just west of the capital.
The still photos released were taken during filming in front of the Korea Manhwa Museum in Bucheon and the riverside area in Seoul's Yeouido district about a year ago.
The filming took place with cooperation from various organizations affiliated with local municipalities, such as the Seoul and Bucheon city governments, the Seoul Film Commission, the Gyeonggi Film Commission and the Korea Manhwa Museum, according to Bada Entertainment that orchestrated the movie's shooting in South Korea.
"About 400 Korean extras appeared in the movie," the company added.