HIGHWAY POLE RIPS THROUGH BUS IN CALIFORNIA CRASH, KILLING 5
ATWATER, Calif. (AP) — A bus veered off a central California highway before dawn Tuesday and struck a pole that sliced the vehicle nearly in half, killing five people and sending at least five more to hospitals, some with lost limbs, authorities said.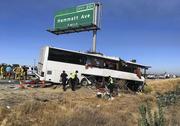 Rescuers pulled out "bags of body parts" from the survivors of the crash on State Route 99, where the speeding bus carrying about 30 people hit the pole of a highway exit sign head-on, Merced County Sheriff Vern Warnke said. It sheared straight through bus, stopping at the first rear axle "with a great impact," he said.
Emergency workers climbed in through the windows to pull out trapped passengers. Others were ejected and were lying in a ditch, Warnke said.
The violent collision woke up Leonardo Sanchez, who found himself in chaos: Fellow passengers were screaming and crying. Some couldn't move, and many were calling out for help, he said.
"We couldn't pull people out because there was shattered glass everywhere, seats destroyed," the Arvin, California, resident said.
Sanchez said he and others who were not severely hurt left the bus right away, fearing that it might catch fire. The 55-year-old said he was left with pain in his stomach and a bruised jaw and mouth.
Five people were killed, and at least five others were airlifted to hospitals, California Highway Patrol Officer Moises Onsurez said.
Emanuel Medical Center in Turlock received four crash victims. One was transferred to a Modesto hospital in serious condition, and three were treated and released, hospital spokeswoman Pennie Rorex said.
Authorities did not have information about any additional injuries or the cause of the single-vehicle crash.
"The pole went through the center of the bus, and that's where the injuries were sustained," Onsurez said.
The still-intact sign stuck out from the roof of the crumpled bus. Wreckage and debris including seat cushions, drink containers, pillows and a blanket were scattered in lanes and on the shoulder of the highway a few miles south of the town of Livingston.
Onsurez identified the driver as Mario David Vasquez of the Los Angeles area, the Merced Sun-Star reported. The 57-year-old was among those with major injuries and was airlifted to a hospital, the newspaper said.
The bus operated by Autobuses Coordinados USA was heading to Washington state and was due in Livingston at 1:30 a.m. to change drivers, Warnke said. It was behind schedule and just a few miles from its stop when it crashed shortly before 3:30 a.m. between the community of Atwater and Livingston.
Calls to various telephone listings for the company went unanswered. Its counter at a Los Angeles depot was open, but nobody was present when an Associated Press reporter arrived midmorning. A sign in Spanish advertised daily 7:30 p.m. departures to destinations up the West Coast to Washington.
The Federal Motor Carrier Safety Administration listed the carrier as having a "satisfactory" rating as of May 17. The bus was inspected in April and had three violations, including a lack of or a defective brake warning device. That violation was not further described, and there was no indication whether each of the items had been fixed.
Some highway signs, like those listing the speed limit, have support poles designed with points that break away during a crash. But the poles supporting the much larger overhead signs are designed to "stay put," said Vanessa Wiseman, a spokeswoman for the state Department of Transportation.
She said the pole involved in Tuesday's crash had the required barrier – in this case, a guardrail – on the side facing lanes.
The highway runs through farm fields and almond orchards in the San Joaquin Valley northwest of Fresno. Its northbound lanes were closed during the investigation, backing up traffic for miles.