HIDEKI MATSUYAMA LEAVES JAPAN TO CONQUER THE WORLD
SHANGHAI (AP) — No one from Japan has more than Hideki Matsuyama's three PGA Tour victories. No one from Japan ever won a World Golf Championship.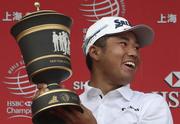 None of this might have been possible if Matsuyama had never left home so quickly.
Even after he blew away a world-class field in the HSBC Champions to reach No. 6 in the world, the 24-year-old Matsuyama was not comfortable being mentioned with the five players ahead of him in the ranking or other Japanese players before his time.
That starts with Jumbo Ozaki, who won more than 100 tournaments and was inducted into the World Golf Hall of Fame five years ago.
But there's one big difference.
Ozaki rarely played outside the Japan Golf Tour. His only victory away from home was the 1972 New Zealand PGA Championship. Matsuyama stopped playing a full Japanese schedule after one year, instead coming to America to see how he stacked up against the best.
His first PGA Tour victory in 2014 at the Memorial led tournament host Jack Nicklaus to say, "I think you've just seen the start of what's going to be truly one of your world's great players over the next 10 to 15 years."
Matsuyama won the Phoenix Open in a playoff over Rickie Fowler earlier this year. And then he played the final 45 holes at Sheshan International for a seven-shot victory Sunday over British Open champion Henrik Stenson and Daniel Berger to become the first Asian to win a World Golf Championship.
"If I would have just stayed in Japan, I don't think my golf game would have improved as much as it has," Matsuyama said. "I needed to go out. I needed to go to America. Winning this week proves to me that I did make the right decision, and it gives me more motivation to win more."
Told he was No. 6 in the world, Matsuyama paused from signing tournament flags and said with a smile, "That makes me very happy."
He speaks limited English, though he understands enough, and so when he heard words suggesting he was No. 1 in Japan, he stopped what he was doing.
"I don't feel that I am the No. 1 player in Japan," he said. "There are so many greats that have paved the way, that have enabled me to be where I'm at today."
Early in his career, Matsuyama played in Japan with Ozaki. He said he didn't fully grasp Ozaki's feats until much later, and believes the legend he calls "Jumbo-san" has established a standard that no one will ever touch.
At least in Japan.
Around the world, Matsuyama has been making his mark long before his victory in Shanghai.
He won the Asia Amateur in 2010 by five shots to earn a spot in the 2011 Masters, made the cut at Augusta National and tied for 27th. Later that year, at 19 and still going to college, he won the Taiheiyo Masters, one of the top tournaments in Japan. Matsuyama also won another Asia Amateur, and then made another cut at the Masters.
Once he finished his college degree in Japan, he won four times as a rookie and finished the year at No. 23 in the world, one spot behind American rookie Jordan Spieth. Perhaps the reason he never received enough attention was that Japan didn't have a history of success away from home.
Now it does.
He said winning the Memorial "showed me that I can compete with some of the best players in the world." The Phoenix Open was validation.
"And then today's win proves to me I can compete with everyone," he said. "It will give me great confidence going forward, especially in the majors."
That's the next stop, and it's one reason he won't put himself in the same class as the five players ahead of him in the world ranking – Jason Day at No. 1, followed by Rory McIlroy, Dustin Johnson, Stenson and Spieth. All of them have won majors.
Matsuyama finished fifth and seventh at the Masters the past two years. He was in the mix at Muirfield in the 2013 British Open his rookie year before tying for sixth. He shot all four rounds in the 60s at Baltusrol and tied for fourth in the PGA Championship this year.
"I'm thrilled to be No. 6 in the world," he said. "But being on the same level as those other players, I've got to win a lot more to be considered with them."
Still to come is the World Cup later this month with Ryo Ishikawa, his close friend who has returned from back injury with five straight top 10s, including a victory. Matsuyama will never face the scrutiny of Ishikawa, who won a Japan Golf Tour event as a 15-year-old amateur and for years received the kind of rock-star treatment at home that only Tiger Woods could appreciate.
What makes them different is their youth. Ishikawa is only five months older.
"All the great players before me came to the United States when they were in their 30s," Matsuyama said. "Both of us have come earlier. If there's a difference, it's the age we came to the U.S."
It's a different path, indeed. But it's working.