Heartbreaking text messages sent to family and friends from sinking ferry
By Kang Seung-woo
Students from the sinking ferry, Sewol, sent text messages to their parents, now a poignant record of the tragedy as it unfold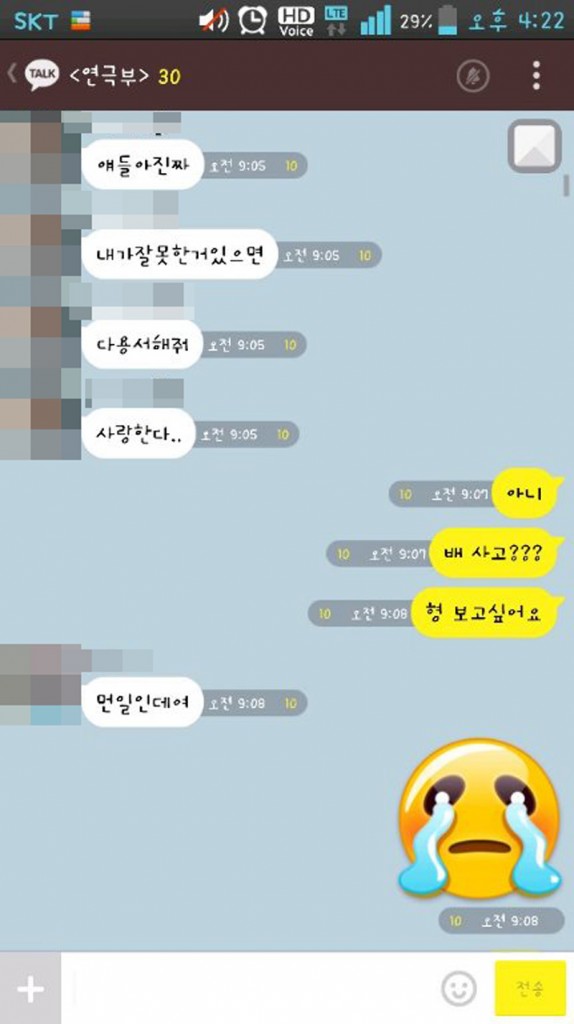 ed.
A second-year student, identified by Park, texted his mother, saying "The ship is half-tilted, so I can see nothing but the sea. I have yet to put on a life vest."
Another student, Kim Beom-soo, texted to his father: "Dad, the ship is sinking. I put on a life vest and am lying on the bed. What should I do?"
His father replied, "Hold tight to a pillar," and his son replied "I hope to meet you alive."
Unfortunately, both students have yet to be accounted for.
Shin Young-jin sent a heartbreaking message to his mother.
"Mom, in case I do not get to say this, 'I love you,'" he texted.
His mother, unaware of the situation at that time, replied "Why? I love you, too, son."
After hearing about the accident, his mother passed out, but to her relief, Shin made the list of rescued passengers.
An 18-year-old girl, also identified as Shin, sent a reassuring text message to her father, saying "Dad, do not worry. I am putting on a life vest and huddling together with other girls."
Her distraught father told her to get out of the room, but he received a sad reply that read "I cannot walk. The hallway is full of students and the ship is tilted too much."
She is among the 287 people still missing.
A female student filmed a cabin with her cell phone, where a teenage girl was screaming as the vessel sank.
Kim Woong-ki, a 16-year-old student, texted his elder brother.
"The ship ran into something and it is not moving, tilting about 45 degrees," Kim said.
His brother calmed Kim, saying "Do not panic and follow what you are told to do, and you will be fine."
However, there was no further exchange of messages between the brothers.