FRANCE PROLONGS STATE OF EMERGENCY DESPITE RIGHTS CONCERNS
PARIS (AP) — Three times a day, at breakfast, lunch and dinner time, Antho Bolamba reports to his local police station in a Paris suburb. He can't leave his house at night or France at all.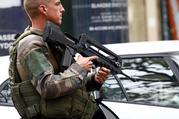 Placed under house arrest four days after the November 2015 Paris bombing and shooting attacks as part of a nationwide state of emergency, the 38-year-old Muslim has no choice.
"Otherwise I will go to jail," Bolamba told The Associated Press in a phone interview as France decided Thursday to prolong until July 15 the state of emergency declared within hours of the Nov. 13, 2015, attacks.
Bolamba, who has not been charged with any crimes, is among hundreds of people who faced house arrest since French President Francois Hollande declared the state of emergency following the attacks carried out by Islamic extremists that killed 130 people.
The exceptional emergency declaration, which has been renewed five times now, expanded police powers to carry out searches and put people under house arrest, and allowed authorities to ban protests and close mosques.
It was meant to be temporary. But the horrific Bastille Day truck attack in Nice that left 86 dead this summer, along with intelligence suggesting the threat of more attacks remains high, prompted the government to keep it in place, drawing criticism from many non-governmental organizations.
Bolamba, who was born in Congo and immigrated to France when he was 3 years old, was prohibited from leaving the country because of his alleged links to Islamic extremists through an aid group for Muslim prisoners he established six years ago. He insists he did nothing wrong, but French authorities say former volunteers and officials of the group traveled to Syria and Iraq to fight.
While the French government sees the prolonged emergency state as "absolutely necessary" to protect the country against the risk of new terror attacks, its detractors claim it undermines individual rights.
In a context of growing Islamophobia, Human Rights Watch recently warned that the rolling emergency state has been used in discriminatory and disproportionate ways, while Amnesty International unsuccessfully urged French lawmakers not to extend it.
According to Amnesty International, out of 95 people under house arrest as of December, 37, including Bolamba, have been confined in their home for a year or more.
"The rights of hundreds of men, women and children have been trampled, leaving them traumatized and stigmatized," Amnesty said.
Bolamba, for his part, claims house arrest feels like "a torture." He lost the job he had for 10 years with a phone company. He said he was fired because he could not do the job under the conditions of his confinement.
According to Bolamba, his aid association, known as Sanabil, provided support to hundreds of inmates across the world, including in the United States, "whatever the crimes they committed."
"We just wanted to make sure they did not feel abandoned in prison," he said. "We sent them letters, helped those most in need, sent books. It was an open window out of prison. The French government did not like it at all and thought it was immoral that we could help inmates incarcerated for terror actions."
But French authorities believe the association tried to influence inmates in favor of armed jihad. Links between Bolamba and high-profile figures of French Islamic extremism also have been established. Amedy Coulibaly, the man who attacked a Kosher grocery store in January 2015, attended a picnic Sanabil organized in 2014.
Bolamba, who describes himself as an "orthodox Muslim," denies the accusations. He said he once was banned from an online pro-jihad forum because of his strong stance against terror and only learned Coulibaly had been at the picnic after he was put under house arrest
French authorities "want to drive me mad, to make me crack," he said. "The most difficult thing for me is to think that the state could think that I'm a threat to France, that I'm bloodthirsty and that I could kill people anywhere."
Bolamba and his lawyer, Bruno Vinay, unsuccessfully challenged his house arrest in France's highest administrative court. Vinay has taken the case to the European Court of Human Rights, where he hopes to find judges more independent than the ones in France's administrative courts, which he says tend to accept Interior Ministry arguments.
"They assume that the person under house arrest needs to prove he is innocent, which is nearly impossible. What we really need is a control authority that could rule on (emergency state decisions) quickly," he said.
While Vinay is convinced authorities are using the emergency state as a pretext to ban an ultra-conservative strain of Islam known as Salafism, Prime Minister Bernard Cazeneuve is adamant it is a critical weapon in the fight against terror.
According to figures Cazeneuve released last week, 17 attacks have been thwarted in the country so far this year. The state of emergency has "fully proven its effectiveness" with 4,194 house searches leading to 517 suspects arrested, 434 kept in custody and almost 600 firearms seized, including 77 "weapons of war," over the last year, he said.
Among those arrested, 420 had links to terror networks, he said.