Ediya goes after Asian coffee drinkers
Home-grown franchise aims to open 2,000 stores by 2017
By Lee Hyo-sik
Ediya Coffee, the only coffee franchise that operates over 1,000 stores in Korea, has written an unparalleled success story over the past 13 years in the highly competitive industry. The home-grown coffee chain, founded in 2001, has been able to expand at an explosive pace through unique growth strategies.
Ediya chose not to directly compete with Starbucks, Caffe Bene and other industry giants. While these more well-known, established coffee franchises usually operate large-scale stores in prime locations, Ediya opens small shops in subprime locations.
This differentiated strategy has allowed Ediya to offer premium coffee at lower prices, and this has attracted a large number of interested franchisees seeking to run a coffee shop at lower costs. Ediya charges a fixed brand loyalty fee of 250,000 won ($220) per month, which is substantially lower than those charged by other franchises. The company headquarters also shoulders all marketing expenditures for its franchisees.
Ediya's high-quality, but low-priced coffee has drawn an increasing number of coffee lovers over the past few years amid the continued economic downturn.
Using its local success as a spring board, the company plans to make inroads into China, Thailand and other Asian nations to spread its low-priced but high-quality premium coffee across the region.
In an interview with The Korea Times' Business Focus, Ediya Coffee CEO Moon Chang-ki said opening the 1,000th store marks a turning point in the company history, stressing that he will open 1,000 more stores by 2017. On Oct. 29, Ediya opened its 1,000th shop in Dongdaemun-gu, Seoul.
"I am so grateful that we are able to open our 1,000th store. This is all thanks to our customers and franchisees," Moon said. "Our customers trust Ediya to offer premium coffee at affordable prices. Our member stores have done a good job in upgrading the Ediya brand and satisfying customers."
Ediya targets niche market
The coffee chain has adopted the strategy of minimizing shop size to encourage take-out, and consequently, create a better bottom line while offering coffee at lower prices than most of its rivals. For instance, Ediya's Americano is priced at 2,500 won at all franchise stores, substantially cheaper than at other coffee chain shops.
The CEO said Ediya has achieved sustainable growth over the past 13 years, regardless of economic conditions, citing the strong partnership between the franchiser and franchisees as the biggest success factor.
"Since we opened our first store near Choong-Ang University in Seoul in 2001, we have been on a solid growth path. 'Shared growth' has been Ediya's corporate principle. This means the company headquarters places the top priority on protecting store owners'investments and helping them make profits," Moon said.
He said it costs up to 60 percent less to open a store with the Ediya logo, compared to other franchises, stressing that shops are no larger than 27 square meters and are located in subprime sites.
"Setting up small shops on side streets means that those seeking to operate a coffee shop can start a business with relatively small capital. To further lessen their financial burden, we only collect a fixed amount of loyalty at 250,000 won a month, regardless of how much money they make," Moon said. "The franchise headquarters undertakes all marketing activities and doesn't charge member stores a penny for product promotion. We also do not open new stores near existing ones. These are some of the several reasons why more and more people come to us."
Ediya has built a long-lasting partnership with its member stores, the CEO said, adding that a quite a number of people operate more than one store. "Our goal is to create a win-win solution with our member stores and the local community, as well as to continue to offer premium coffee at low prices and friendly customer services."
To meet the rapidly changing consumer needs, Moon said Ediya will enlarge the size of new stores in the future because more coffee drinkers want to stay in the shop rather than take out their drinks and go somewhere else.
"Drinking coffee itself is not why Koreans come to our stores. Many want to interact with one another over a cup of coffee. This means that they want to stay in the coffee house rather than take out their drinks and leave," the CEO said. "To meet this demand, we will expand the size of our future stores to as large as 70 square meters. But no matter what changes we make, we will always put the financial interests of our member stores ahead of anything else."
In 2010, the number of Ediya shops stood at 437 but jumped to 588 in 2011 and 801 in 2012. The company revenues, accordingly, surged at an average annual rate of 72 percent from 2010 through 2013. Ediya estimates its sales will reach 85 billion won this year, up from 42 billion won in 2012, 25 billion won in 2011 and 15 billion won in 2010.
"It is remarkable that our sales have increased at over 70 percent annually. We think the figure will soar at an even higher rate in the coming years," Moon said.
China next in line
Ediya has been preparing to advance into China and Southeast Asian countries over the past few years. The company plans to first ship packaged instant coffee abroad and see how customers react to it. If successful, Ediya will explore local partners to set up franchise stores in each market.
"We have been exploring opportunities to establish presence in Asia. I have been to China, Thailand and other countries for market research. Overseas business is not as simple as I had previously thought," Moon said. "We need to be 100 percent prepared when we head overseas because if our overseas venture goes wrong, it will deal a severe blow to us."
The CEO plans to first market the firm's instant coffee "Beanist 25" in foreign markets and see how it is received by consumers there. In August 2012, Ediya launched Beanist 25, which contains high-quality instant ground coffee produced in Colombia.
One stick is priced at 500 won, cheaper than Starbucks' VIA, which is priced at 1,200 won.
According to the CEO, the quality of the Colombian coffee in Beanist 25 is higher than that in VIA. The product is available only at Ediya stores here but it will soon be sold at discount stores and other retailers.
"We will take one step at a time when it comes to doing business overseas. This means we will sell instant coffee first and then set up stores," Moon said. "We are currently making all the preparations necessary to market Beanist 25 in China next year. We recently tested it with Chinese movie goers. Their response was more positive than we had expected. We will produce two million tubes of the instant ground coffee for the Chinese market in 2013."
If Beanist 25 sells well in China, Ediya will export coffee mix products that contain coffee power, powered cream and sugar.
Based on the success of Beanist 25 and other products, the company will move to set up a franchise in the world's fastest growing market.
"After boosting the brand awareness of Ediya among Chinese consumers, we will launch franchise stores there. We will then enter Thailand, Malaysia, Indonesia and other Southeast Asian markets," the CEO said.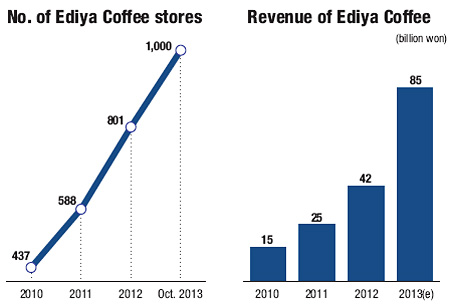 2,000 stores by 2017
Moon unveiled an even bolder plan for the domestic market, saying Ediya will increase the number of its franchises to 2,000 by 2017, despite growing concerns for Korea's increasing market saturation.
"Some say that Korea's coffee franchise industry has reached a saturation point. But we do not agree. Today, Korean adults consume only two cups of coffee on average, many of which are from instant coffee mix. A growing number of Korean consumers are turning to freshly brewed coffee," the CEO said. "The number of coffee shops per capita in Korea is still lower than in most advanced countries. So, there is a huge room for coffee franchises like us that offer freshly brewed coffee to grow further."
Ediya can double the number of its franchise stores over the next four years, he projected. In 2013, the company added 250 new stores. It will be able to open 300 new stores annually from 2014 through 2017, according to Moon.
"We will set up stores in areas outside Seoul, Incheon and Gyeonggi Province. In provincial areas, a growing number of coffee drinkers want to taste our premium coffee at affordable prices. Also, we will boost partnerships with department stores and other retailers so we can set up in-store coffee shops to serve their shoppers," the CEO said.
When asked about the Fair Trade Commission (FTC)'s restrictions on the expansion of large coffee franchises, Moon said Ediya has benefited from it to a certain extent. Under the rules, same brand coffee shops cannot open within 500 meters from each other. Those operating 100 affiliate shops and earning 50 billion won a year are subject to this restriction.
"I would say the FTC rule, which went into effect in November 2012, did us only a small favor. But the important thing is we have achieved remarkable growth over the years, because of our effective marketing strategies and strong partnership with member stores and suppliers," he said. "Of course, we owe our success to loyal customers."
He then expressed concerns over the FTC regulation because Ediya will be subject to it in 2014 as it expects to earn 85 billion won this year.
"Our member shops are small in size, compared to those of other franchises. I think it is unfair for us to be subject to the rule in the same manner," Moon said. "Nonetheless, we will strictly abide by government policies and regulations. Even so, we are confident that we will be able to double the number of member shops by 2017 because there are many optimal locations in provincial areas where we can open new stores."
Honesty is best policy
It is a must for business-to-customer industries like coffee franchises to earn the trust of customers, Moon said, stressing that to do so, it is necessary to create a long-lasting, solid partnership among the franchise headquarters, member stores and suppliers.
"I would say it is important to promote honesty and mutual respect among all concerned parties, based on the spirit of shared growth. Ediya has to earn the trust of consumers by offering high-quality coffee at affordable prices," the CEO said. "We treat franchisees as family, not just mere business partners. We help them secure their investment and generate profits. Doing so encourages them to offer better products and services to customers."
Moon said he wants to create a workplace in which employees are eager to come every morning. "Our workers are very young. The average workers' age is only 29. They want to voice their opinions freely and exert their full potential. So, I am always trying to promote open communication and create horizontal relationships with all employees, regardless of title and age."
Ediya has been involved in a number of volunteer activities to help those in need, the CEO said. The company raises funds to offer scholarships to students from low-income families.
"We also make kimchi for and deliver briquettes to senior citizens living alone every winter. To more systematically carry out volunteer programs, we will set up a foundation in 2014 and raise 10 billion won over the next five years," he said. "The foundation will offer scholarships and other financial support to the underprivileged. At the same time, we will sponsor young musicians and other artists so they can exert full potential. We will also go to China to plant trees."