BRITISH POUND SHAKEN BY 6 PERCENT 'FLASH CRASH'
HONG KONG (AP) — The beleaguered British pound suffered a "flash crash" on Friday in which it briefly plummeted 6 percent within minutes to a new 31-year low, intensifying concerns about Britain's exit from the European Union.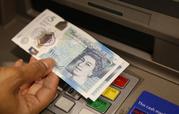 The pound tumbled from $1.2600 to as low as $1.1789, a 6 percent drop in the space of two minutes, according to financial data provider FactSet. That's a huge move for a currency, even for the volatile pound, which then recovered most of that ground to trade at $1.2365.
Market watchers were baffled by the move, which they blamed on various factors including a trader's "fat finger" mistake, a rogue automated trading algorithm making decisions based on news websites or social media; or comments made by France's president, Francois Hollande.
Hollande said "Britain wants to leave but not pay anything. That's not possible." His comments suggest he will push for a hard stance in negotiating Britain's exit, known as Brexit, from the bloc's tariff-free single market.
The comments were made hours before the flash crash, but may have had an effect on trading only when Asian markets opened.
Some speculated the crash could have been caused by a combination of these reasons.
Kathleen Brooks, research director at Forex.com and City Index, said that computerized trading programs that scan news sites could have been prompted to start selling pounds by the increase in negative headlines about Britain. Once the pound started moving lower, she said, other computerized trading programs could have followed suit, compounding the drop.
The crash occurred during a "twilight period" between major market trading hours – after the close of markets in the U.S. and just as Asian traders were starting their day. That means the volume of trading was likely lower than usual, and that relatively smaller trades can have an outsize impact.
"Whatever it was, it shows us that the pound is looking very vulnerable right now," said Alex Edwards, currency analyst at UKForex.
The pound has now lost about 17 percent since hitting a 2016 high of $1.50 on the day of the June 23 referendum in which British voters opted to leave the EU.
The decline has accelerated after British Prime Minister Theresa May said Sunday said she would trigger two years of formal exit talks before April. She emphasized the need to control immigration of EU citizens, suggesting she would sacrifice Britain's access to the EU single market if needed. The EU has long said Britain cannot close its doors to EU citizens while remaining in the EU market.
As the date of the official exit negotiations approach, the pound could face more steep losses, said Edwards. Pound "traders, importers and exporters might want to fasten their seatbelts."