BRITAIN'S NEW GOVT SIGNALS PM MAY IS SERIOUS ABOUT BREXIT
LONDON (AP) — Theresa May wanted Britain to stay in the European Union, but the government she unveiled Thursday leaves little doubt that Britain's new prime minister intends to fulfill voters' instructions and take it out of the 28-nation bloc.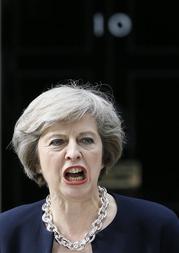 May has appointed leading euroskeptics – including the unpredictable Boris Johnson and the formidable David Davis – to top international jobs in a Cabinet that sweeps away many members of predecessor David Cameron's administration.
When she was running for the Conservative leadership, May promised that "Brexit means Brexit," and her appointments of Johnson, Davis and arch-euroskeptic Trade Secretary Liam Fox signal to EU leaders that, no matter what her own feelings, she will not be watering down Britain's commitment to leaving the EU.
Johnson, Britain's new foreign secretary, said Thursday it was an opportunity to be seized – "reshaping Britain's global profile and identity as a great global player."
On her first full day in office, May dismantled Cameron's affluent metropolitan clique, dubbed the "Notting Hill set" after the former prime minister's trendy West London neighborhood.
Gone were Cameron allies including ex-Treasury chief George Osborne, Cameron's friend and neighbor and like him the product of an elite private school. Gone, too, was Michael Gove, the justice secretary who many Tories believe betrayed former ally Johnson by running for Conservative leader himself – a job Johnson had long sought.
Gove's replacement, Justice Secretary Liz Truss, and the new Education Secretary Justine Greening both attended state schools – as did May.
The shuffle signals that May values social mobility and self-made successes. It also reinforces a promise she made outside 10 Downing St. on Wednesday: "We will make Britain a country that works not for a privileged few, but for every one of us."
Some 52 percent of Britons who voted June 23 wanted to leave the EU – a position uncompromisingly reflected in the international face of the new government through the triumvirate of Johnson, Davis and Fox.
Johnson, London's popular former mayor, helped the "leave" campaign win last month's referendum. But his appointment as foreign secretary caused some consternation around the world.
French Foreign Minister Jean-Marc Ayrault said Johnson had lied to the British people during the EU referendum, and now had "his back against the wall to defend his country and to clarify his relationship with Europe."
Johnson's certainly not the obvious choice for Britain's top diplomat. He is internationally famous – but for rumpled eccentricity, Latin aphorisms and distinctly undiplomatic gaffes.
In April, Johnson suggested that U.S. President Barack Obama had an "ancestral dislike" of Britain because he is part-Kenyan. Asked late Wednesday whom he would apologize to first, Johnson said "the United States of America will be at the front of the queue."
On his first day in the job Thursday, Johnson struck a sober tone. He shrugged off Ayrault's criticism, saying the French minister had sent him a "charming letter … saying how much he looked forward to working together."
The U.S.-born, part-Turkish Johnson said Britain was quitting the EU but "that does not mean in any sense leaving Europe."
"There is a massive difference between leaving the EU and our relations with Europe, which if anything I think are going to be intensified and built up at an intergovernmental level," he said.
Some said Johnson might surprise his many critics. His idol is Winston Churchill, another politician who was underestimated before rising to become Britain's World War II leader. May has given him the chance to live up to his potential – or to fail spectacularly.
"It is not without risks," said Christopher Meyer, a former British ambassador to the United States. "There may be some mishaps.
"But if Boris Johnson can realize his potential … he will send that shot of adrenaline through the Foreign Office, through our diplomacy, that is so necessary right now," Meyer told Sky News.
Lesser-known than Johnson but at least as important to Britain's future is 67-year-old David Davis, the new Secretary of State for Exiting the European Union.
Davis, who served under Conservative Prime Minister John Major in bruising 1990s dealings with the EU, is one of the staunchest euroskeptics in British politics. He will lead a new department charged with the complex work of divorcing Britain from the bloc yet forging a new relationship with it.
The libertarian Davis – a former special forces reservist who boasts that he has broken his nose five times – has sparred with May for years over the powers of Britain's spy agencies, which she oversaw as home secretary and he thinks are too intrusive.
Davis has previously said Britain should take a "brisk but measured" approach to exit talks with the EU, invoking Article 50 of the EU constitution – the formal trigger for two years of exit negotiations – by the start of 2017.
EU leaders, however, are pressuring Britain to open formal exit talks sooner – and warning that the U.K. cannot have access to the single European market of 500 million people without accepting the free movement of EU citizens, a sticking point for many pro-Brexit Britons.
The foreign policy spokesman for German Chancellor Angela Merkel's party in Parliament said Thursday that many current British suggestions for future relations with the EU were "unworkable."
"Free access to the common market means, among other things, accepting other fundamental freedoms such as the freedom of movement," said Juergen Hardt.
European Parliament President Martin Schulz said the EU would "work constructively" with the new British government. But he accused May of putting a desire to unite her deeply divided Conservative party ahead of concerns about Britain's future.
Newly appointed Treasury chief Philip Hammond, meanwhile, sought to reassure the markets and the public, saying there was no need for an emergency national budget, despite the question marks hanging over the British economy following the referendum.
Hammond acknowledged that the Brexit vote has had "a chilling effect" on investment, saying "the No. 1 challenge is to stabilize the economy, send signals of confidence about the future."
"Britain is open for business," he said. "We are not turning our back on the world."