A BRILLIANT START, A BAD FINISH AND A 73 IN TIGER'S RETURN
NASSAU, Bahamas (AP) — Even with the wind at his back, Tiger Woods figured only a perfect 5-iron from 231 yards would reach the green. Adding to this challenge was he had taken only four full swings in competition over the past 466 days.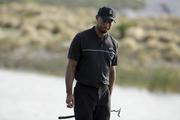 He posed over the swing until he saw it land 233 yards away, bouncing over the third green at Albany Golf Club. A pitch-and-run and a tap-in later, he had his birdie and was on his way Thursday in his return to golf at the Hero World Challenge.
"To hit it that flush that early in the round, that felt good, gave me a little confidence," Woods said. "I had to step on it to get it there, and I did. To find the feel of the round that quick, that felt good."
Just like that, he felt as if he hadn't been away for the last 15 months. He just couldn't get off the course without a few mistakes costing him a lot of strokes.
Woods made two double bogeys over his last three holes for a 1-over 73, leaving him nine shots behind J.B. Holmes and one shot better than Justin Rose, the only player who had a worse score.
No one was sure what to expect from Woods, who took the longest break of his golfing life following a pair of back surgeries that made him wonder at times if he had played his last golf tournament. Now, all he can think about is the next round.
"We've got three more days," Woods said. "Wind is supposed to pump on the weekend, and I'll be playing a little bit better."
Here's what he can build upon:
DRIVING: Woods hit only six of 13 fairways, though only one of them was bad enough to cause a problem. Woods pulled his tee shot into the water on the 18th, slamming his driver into the turf. All of his misses were to the left, some of them just catching the sandy waste area.
"That's the hardest thing in changing equipment," Woods said. "The shots aren't the same, so my misses are a little bit different."
He hit plenty of good drives, particularly on the first two par 5s. On both he hit a tight draw.
MISTAKES: Albany is the type of course that punishes mistakes.
Woods tried to hug the left side of the fairway on No. 9, with the wind coming out of the left toward the water, and it stayed there into the dunes. That led to his first bogey, though the culprit was a flubbed chip into the grain and up the slope, and it came back down the hill. His second shot out of the sandy waste area on No. 11 was flared out to the right and into a bush. Woods had to take a penalty shot for an unplayable lie and made bogey.
His worst shot was his approach from the 16th fairway that he pulled into a bush. He did well to hack that backward to the fairway, and he hit a poor pitch that rolled out some 30 feet by the hole.
"Just made some really silly mistakes, mistakes I don't normally make," Woods said. "But I haven't played in a while. Unfortunately, I made those mistakes. I can clean that up."
CHIPPING: There remains a fascination with his short game, particularly because of how bad he was at the start of 2015 in the Phoenix Open and Torrey Pines, so bad that he took two month off to work on it.
It was a mixed bag on Thursday.
Woods hit a beautiful pitch-and-run from 30 yards for an easy birdie on No. 3, and a chunk-and-run from a tough spot below the fourth green. And on the par-5 sixth, his flop shot from 40 yards away settled 5 feet away for the start of three straight birdies that gave him a share of the lead, but only briefly.
But he flubbed the chip on No. 9 (bogey), had a simple pitch on the 16th that rolled out 30 feet, and his pitch from right of the 18th green hit the pin halfway up, indicating it was too strong.
THE OUTLOOK: The score shows Woods was one of only two players who couldn't break par. Two swings effectively cost him four shots. Woods was looking more at what could have been than what was.
"It could have been something really good," Woods said. "I got off to a nice, solid start and made a few mistakes there. I didn't play the par 5s very well in the middle part of the round and consequently, got it going the wrong way. … But all in all, I feel pretty good. I'm looking forward to another three more days."