USING PRIVATE EMAIL SAME AS PRIVATE PHONE CALL
WASHINGTON (AP) — Former Secretary of State Colin Powell is defending himself following the release of a 2009 email exchange with Hillary Clinton, describing his use of a private, dial-up email account to carry out U.S. government business.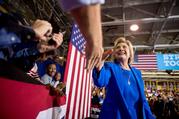 Powell said in a statement Thursday he viewed his use of private email to communicate with foreign leaders and U.S. officials as private conversations similar to phone calls. He said he was unaware of any requirement that those messages be preserved as government records, potentially subject to public release.
A retired Army general, Powell served as America's top diplomat during Republican President George W. Bush's first term. His exchange with Clinton was released Wednesday by congressional Democrats.
Republicans have sought to portray the Democratic presidential nominee's use of a private email server as reckless.