Tornadoes touch down, wreak havoc in southern Louisiana
NEW ORLEANS (AP) — Hours after a tornado struck eastern New Orleans on Tuesday, hatchet-wielding firefighters walked up and down the debris-strewn Chef Menteur Highway, looking for anyone missing or trapped.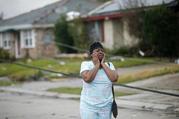 "I'm homeless now," said Malcolm Ballard, 65, outside the heavily damaged Royal Palms Motel.
Inside, his room was ransacked; the furniture and carpet soaked by rain that poured in after the storm blew open the door and broke the windows.
At least two other confirmed tornadoes touched down in southern Louisiana, wiping houses from their foundations, downing power lines and leaving 10,000 homes without electricity before moving across the Deep South. Dozens of injuries were reported, but no fatalities.
New Orleans Mayor Mitch Landrieu said at least two of the injured were seriously hurt. Louisiana Gov. John Bel Edwards viewed the damage during an aerial tour and declared a state of emergency.
The storm flipped over cars, tore roofs off homes, ripped through a gas station canopy, broke tall power poles off their foundations and flipped a food truck upside-down. It left a couch resting improbably on a pile of debris in the middle of a road, and trapped a truck driver as power lines wrapped around his cab.
The wall of severe weather also delivered heavy rain and hail to Mississippi and Alabama. The national Storm Prediction Center in Norman, Oklahoma, said 2.7 million people were at risk across the region.
Press Secretary Sean Spicer said the White House was monitoring the severe weather, and President Donald Trump would be reaching out to local and state officials throughout the day.
Kevin Ballard, 56, came to check on his older brother at the damaged motel, but his own injuries turned out to be worse. He was at an auto repair shop when the apparent tornado hit, collapsing the shop around him. He had bruises and cuts on the back of his head and neck.
"I was standing in front of the building at first and I seen something black, twisting," Kevin Ballard said. "Tires and everything fell on the back of my neck and head."
Yoshekia Brown lost everything to Hurricane Katrina in 2005. Now she's lost everything again: Three-quarters of her home in New Orleans East is now collapsed.
Brown said she was at work when she got a weather alert on her phone. She looked at a weather map and realized it was her neighborhood, then drove home to check. On the way, her brother called and said, "Sister, your house is gone."
She didn't believe it.
"I lived in between two blighted properties. One of those would have been gone before my house," she said. "It wasn't real until I walked up. I can see into my living room. I can see into my front bedroom. It's just gone. Like the movie Twister."
Luckily her 2-year-old son and three dogs have survived, and her home was insured. She said she's not sure what to do next, but "something good has to come from this."
Other twisters struck near the town of Donaldsonville and in the town of Killian, National Weather Service meteorologist Danielle Manning said.
At least seven homes have been damaged in Livingston Parish, northwest of New Orleans, where other minor injuries were reported, said Brandi Janes, the deputy emergency preparedness director.
"Two of them are completely gone… all the way to the ground," she said, adding that crews were removing trees from roadways and working with the Red Cross to get help to damaged areas.
One warning described a "large, extremely dangerous and potentially deadly" twister south of Hammond, Louisiana.