'The Attorney' shaping up to be historic hit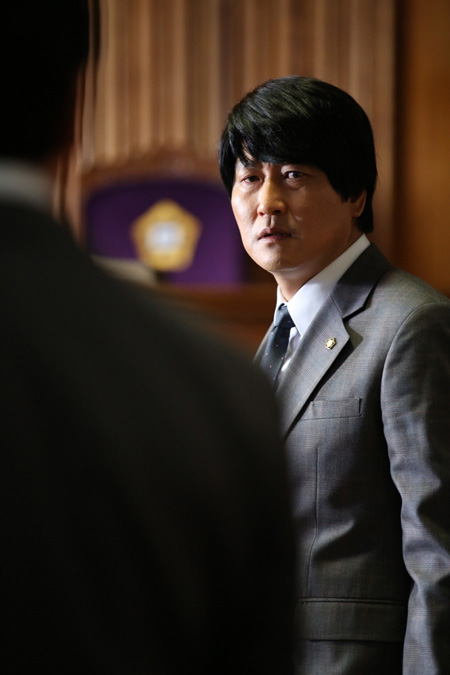 By Yun Suh-young
"The Attorney," a movie inspired by the life of late President Roh Moo-hyun during his days as a human rights lawyer, is rapidly becoming a historic box-office hit.
The movie, released on Dec. 18, sold 7.8 million tickets as of Monday and continues to receive the largest share of online reservations. It seems to be on course to join a handful of films in the special "10 million club," an impressive audience number considering that the country's economically active population is measured at around 25 million.
A work by first-time director Yang Woo-seok, the film portrays how an opportunistic tax lawyer emerges as an influential human rights attorney while defending a student activist under the oppressive government of military dictator Chun Doo-hwan in the 1980s.
The story is loosely based on the famous "Burim" incident of 1981, when the Chun regime, without warrants, arrested 22 students and teachers who belonged to a book-reading club on fabricated charges that they were North Korea sympathizers. Roh, along with his future political ally Moon Jae-in and late lawyer Kim Kwang-il, were affiliated with the legal team that defended the arrested individuals.
Song Kang-ho, Chungmuro's hottest actor at the moment, stars as protagonist Song Woo-seok, the character based on Roh.
"The Suspect," a thriller starring Gong Yoo, was the distant runner-up at the box office, garnering about 3 million moviegoers since its release on Christmas Eve. Among foreign movies, "The Secret Life of Walter Mitty," "Ender's Game" and "About Time" have been consistently in the top 10 in ticket sales.