Rub Story
Sisters Ann and Janet Chung's 'We Rub You' Korean BBQ sauce 
available at all northeast region Whole Foods Markets by this summer
By The Korea Times Los Angeles staff
When Ann and Janet Chung were young, their parents – Korean immigrants – would make sandwiches of bulgogi folded in Miss Baird's Bread and served like hot dogs.
The Texas-born sisters probably had no idea then that their family-recipe marinades would end up on the shelves of dozens of retail stores across North America.
Now, the with the eyebrow-raising name "We Rub You," their Korean BBQ sauce, offered both in original and spicy flavors, will be available at all northeast region Whole Foods Market grocery stores by this summer.
Ann, who majored in engineering at Columbia University, and Janet, who studied economics at New York University, found themselves in-between jobs with a desire to work together in 2011. They both enjoyed cooking for friends, who repeatedly asked for bulgogi after trying it, Ann says. Inspired, she and Janet begun their own stand at Smorgasburg, a Brooklyn food flea market, selling fusion BBQ foods like pork belly with kimchi and perilla on a brioche bun.
"It was almost like a lemonade stand," she says of their initial testing and surveying of people's reaction to the food and branding. Their experiment eventually sold out, the response being overwhelmingly positive. The marinades were bottled, and We Rub You officially launched on Valentine's Day last year.
"The Korean alphabet lacks a distinctive L/R or V/B, so We Rub You is a cute way to say 'We Love You,'" explains the back label of the bottled sauces. But more than that, it comes from the constant reminder from the sisters' parents that they "rub them," a phrase of affection that has also led the saucemakers to spread some of their own love.
Ten percent of We Rub You's profits go toward Restore NYC, a cause against sex trafficking in New York City that provides care and support for foreign-national survivors, Ann says. "We're running a profitable business while we do what we're excited about," she says of the company's social mission.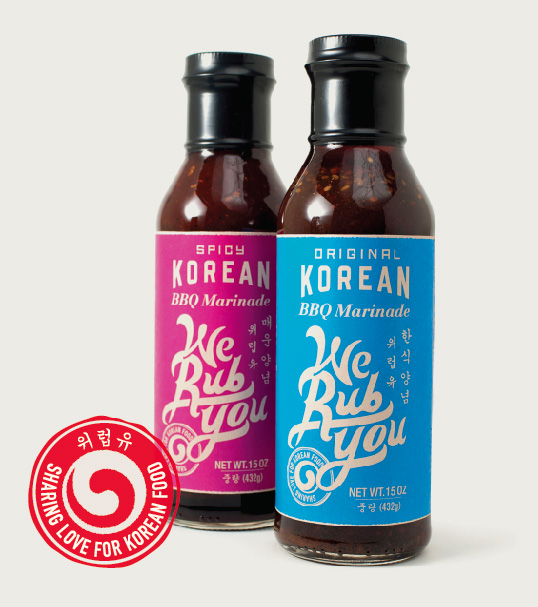 With interest in Korean cuisine booming around the U.S. — kimchi is now a regularly spotted item in U.S. supermarkets, after all — and with another bottled Korean sauce, KimKim, stirring up buzz recently, Ann says she's happy to see people becoming more aware of Korean flavor.
The boom is happening with this generation thanks to the children of immigrants who grew up introducing Korean food to everyone else, she says.
For Ann, the sauce is more than a recipe. It's about friendship between Korean and American culture and about what her family's bulgogi-and-bread combination used to symbolize back in the 1970s.
"Our goal is to see families across America eating Korean BBQ at home," she says.