Retiring Korean ballerina sweated for perfection on every stage
SEOUL, July 21 (Yonhap) — "I'm equally attached to every single stage I've performed on in the past 30 years," said Kang Sue-jin, the internationally renowned South Korean ballerina. "I poured out my passion on every single one of them."
The 49-year-old muse of the Stuttgart Ballet, one of the most prestigious ballet companies in Germany, voiced excitement in her telephone interview with Yonhap News Agency on Wednesday. The revered ballerina has been staying in Stuttgart to take the stage for one last performance, "Onegin," slated for Friday.
The global celebrity seemed so engrossed with her swan song that she said she wasn't sure what she'll do the day she wakes up a retired dancer.
The ballerina simply put it, "I guess the absence of plans makes me even more excited."
In November, the German ballet company visited South Korea to present "Onegin," Kang's farewell to her home fans.
Friday's "Onegin" will be Kang's goodbye stage for her fans in Germany, a country that the ballerina has dearly loved as her "second home."
Kang has been a pioneer in many aspects, second to none in South Korea's ballet history. Since her entrance to the Stuttgart Ballet in 1986 — a rare success for a Korean ballerina at the time — she snagged her first main role in 1993 as Juliet in "Romeo and Juliet."
She stood in the limelight as the recipient of many unprecedented honors. In 1996, she was awarded the "Benois de la Danse," the world's most prestigious ballet award. Three years later, she was conferred the National Hwa-Gwan Order of Cultural Merit by the South Korean Ministry of Culture, Sports and Tourism. In 2007, the South Korean dancer became the first recipient of the German title, "Kammertanzerin," or a royal court dancer, an accolade for the European country's most outstanding artist.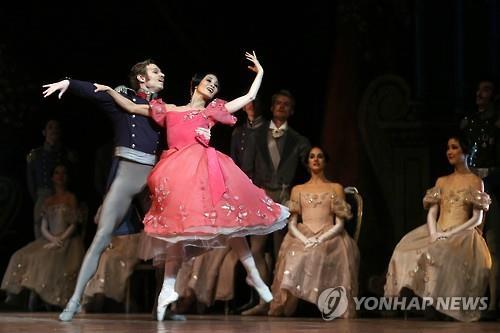 Despite abounding accolades and performances on some of the world's most prestigious stages, Kang failed to pick the most memorable stage of her dancing career.
"It is impossible to pick one," she answered. "I gave 100 percent of myself on all stages, should it be the small local theaters in the countryside or the world's most glorious stages of Paris, Vienna and New York. Even in my early stages (with the Stuttgart Ballet), I put out all my effort when I was in my worst condition, after I came down with injuries."
In her last performance, she only cares about one thing — giving her all to have a perfect performance.
The tenderhearted ballerina felt like she won't be able to hold back her tears during her last curtain call.
"I'm a bag of tears. The word 'last' and the moment of saying goodbye surely will make me sad," the artist said.
"I burst into tears in my last performance in Korea, when I could feel the support and love that the fans showed me for such a long time. I am expecting a similar ripple of gratitude and happiness and lots of tears during Friday's ballet."
The ballerina was explicit about her thanks to Tunchi Shockman, her loving husband and largest supporter of her dancing career.
Kang was more than happy to stage "Onegin" on her husband's birthday, with the two looking forward to "a whole new life" after retirement.
"My husband and I think my retirement has come at the perfect time. It's best to greet the second chapter of life when we are both healthy, both physically and mentally."
But Kang's farewell to her on-stage dancing career will not mean the end of her ballet career. She still remains the art director of the Korean National Ballet, South Korea's most prestigious state-run ballet company.
After her term at the KNB expires in early 2017, she plans to remain in the ballet scene, sharing her global experience and professionalism with future Korean talents.
Kang said she was more than proud of the young and upcoming South Korean ballerinas.
"Korean dancers are not afraid of hardships as they pioneer their way on the world stage. I think that's why we have lots of young dancers gaining recognition in many of the top companies around the world," she said.
Kang said she wants to be remembered as "a person of passion and effort."
"It is at the liberty of the audience how they remember me. All I'm taking with me is my gratitude for their support and love," she said.
"I have stood on all stages without having the slightest bit of regret, and that's the conviction that I've lived for."