Rescue divers fight on to make miracle happen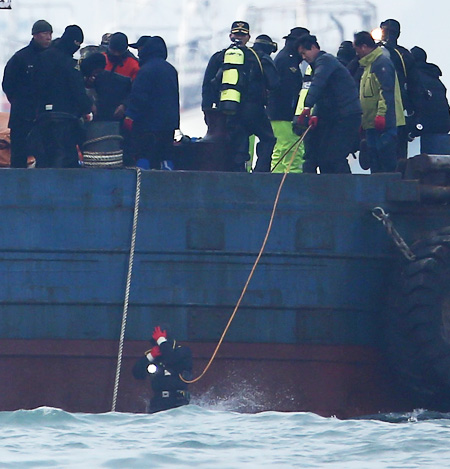 As the search for more than 100 missing survivors continues, the more-than-550 rescue divers who have been at the front lines of the ferry boat tragedy that has anguished South Korea keep on fighting against time.
"I've caught a cold, but I feel bad even taking medicine thinking about those students still trapped in the sea," said Kim, one of the divers. "I'm putting in all my energy to make a miracle happen."
Most of the divers are fighting fatigue due to harsh water conditions, said Baek, an aid deliverer to the rescue team.
Baek said he wanted to bring rescuers high-protein fish porridge to help sustain them but that they turned him down and said they couldn't eat while the victims' families starve. They told him the families are relying on only them to bring back the missing, he said.
Divers have been eating and showering inside the patrol ships. At the beginning, they were in the water for 12 hours at a time, and until meals were provided on the fourth day, most did not eat.
The provided meals are comprised of simple, high-calorie foods like red bean bread, bananas and Choco pies.
A week has passed since the sinking. Rescuers continue to enter the submerged ship 24 hours a day, hoping to find just one more survivor.
The third and fourth floors, where most of the missing are believed to be trapped, are the current areas of focus, according to Yonhap.
Rescue teams plan to increase the number of guide lines to 10 in order to accommodate more divers inside the ship at once.
Meanwhile, the death toll has risen to 128. No survivors have been found in days, and 174 remain missing.