Osweiler to start for Texans against Raiders
HOUSTON (AP) — Brock Osweiler will start at quarterback for the Houston Texans on Saturday in their wild-card game against the Oakland Raiders.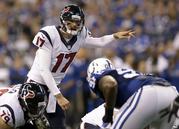 Coach Bill O'Brien announced the decision on Tuesday with Tom Savage, who had started the past two games, still recovering from a concussion he suffered on Sunday.
Osweiler started the first 14 games this season before being benched on Dec. 18 against Jacksonville after throwing interceptions on consecutive drives in the second quarter.
But Osweiler got another chance after Savage got a concussion early in the second quarter of a loss to Tennessee on Sunday .
Osweiler had struggled with inconsistency and turnovers before being benched, but was better on Sunday when he threw for 253 yards and a touchdown and ran for another score.
"I thought Brock did some really good things on Sunday with his teammates and almost brought us all the way back," O'Brien said.
"Did a nice job and we have a lot of confidence in him that he's going to go out there and play well on Saturday."
Veteran left tackle Duane Brown was also impressed with Osweiler's work on Sunday.
"I thought he played loose," Brown said. "I thought he communicated well recognizing the front, getting us into the right plays, made some good throws. Had the touchdown run there, so I thought he played tough."
Savage remains in the concussion protocol and O'Brien said if he is cleared he will be the backup on Saturday. If not, Brandon Weeden, who hasn't played since last season, will back up Osweiler.
This game will be an opportunity for Osweiler to redeem himself after failing to live up to expectations in his first season in Houston after signing a $72 million contract in the offseason.
O'Brien thinks Osweiler benefited from taking a step back to observe things after he was benched and said he played more "freely" than he had in the past on Sunday.
"I'm sure that in some ways it's painful to go through that, but in some ways the backup position may have helped him," he said.
Osweiler has thrown for 2,957 yards with 15 touchdowns and 16 interceptions this season. This will be his first postseason start after he was benched in favor of Peyton Manning before the playoffs last season with the Denver Broncos.
Savage played well when he took over for Osweiler against Jacksonville, throwing for 260 yards to help Houston rally for the win.
But he failed to move the offense consistently last week against Cincinnati and couldn't do much on Sunday before he was injured. He had just 25 yards passing.
While Houston has decided on its starter, the Raiders are still dealing with questions at quarterback after Matt McGloin left with a shoulder injury in his first start since Derek Carr broke his leg the previous week.
Rookie Connor Cook took over and could have to make his first NFL start on Saturday if McGloin can't go.
This will be the second time the Texans have played the Raiders this season after Oakland got a 27-20 win in Mexico City on Nov. 21.
The Texans will need Osweiler to improve this week if they hope to win a playoff game for the first time since the 2012 season.
Houston's offense has often been ineffective this season with him at the helm and the team's passing game ranks 29th in the NFL by averaging just 198.5 yards a game.
O'Brien likes what he's seen from Osweiler since his benching and is eager to see what he can do on Saturday.
"He's done a good job. He's been a pro," O'Brien said. "He really hasn't changed his routine at all. He's been in here studying like he's the starter. He's in here this morning getting ready … he feels good and I think he's ready to go."