Obstacles to Park-Abe summit abound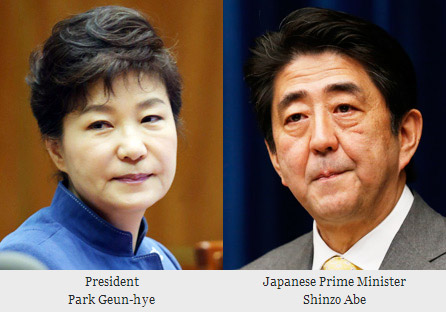 By Kim Tae-gyu
Prime Minister Shinzo Abe needs to do more to address sexual slavery of Korean women and other historical issues if he hopes to hold a summit with President Park Geun-hye, analysts said Monday.
They said there are many obstacles to the staging of any summit on the sidelines of the Nuclear Security Summit in The Hague on March 24 and 25.
"First and foremost, Koreans doubt whether Abe has really changed. Many are not certain about the sincerity of his remarks, and Cheong Wa Dae seems to share the same doubts," journalist-turned-commentator Lee Kang-yun said.
"That's why the presidential office demands follow-up measures from Tokyo to show its commitment to accepting history issue, before discussing a summit."
Park's spokesman Min Kyung-wook told reporters Monday that Japan must demonstrate its sincerity so the two countries will be able to have fruitful discussions, rather than talks for the mere sake of talking.
His remarks came after Abe announced last week that his government would not try to revise the 1993 Kono Statement and 1995 Murayama Statement, in which the island country admitted to and apologized for its wartime wrongdoings including the sexual enslavement of Asian women, mostly Koreans.
The Park administration has urged Abe to uphold the statements as a prerequisite for any summit, which Abe has repeatedly requested but Park has refused citing Japan's lack of contrition for its imperial-era misdeeds.
In addition, the United States has also demanded that its two main Asian allies mend fences before President Barack Obama's visit to East Asia next month. The three-way cooperation is crucial for the U.S., which hopes to check ever-rising Chinese power-plays in the region.
"I suspect that Abe vowed to stand by his predecessors' apologies for the country's past aggressions due to the pressure from Washington. That means that he can shift to his original provocative views at any time," said Professor Shin Yul at Myongji University.
"So, we don't have to hurry. We can wait until we are sure Abe has changed."
An official from Cheong Wa Dae concurred.
"Let's say that Park will meet Abe on March 24 or 25. I want to remind you that Tokyo will later disclose reviews of elementary school history textbooks. What if most of them claim Dokdo as its territory like the reports from local newspapers?" asked the official who asked not to be named.
"Then, the government would suffer a great backlash from the people. It would be a very bitter pill to swallow."
Dokdo is Korea's easternmost territory composed of two islets surrounded by rich fishing waters. Japan also asserts sovereignty over the volcanic outcrops to the anger of Koreans, who regard such claims as remnants of Japan's imperialism.
Also at issue is the potential venue of the summit ― The Hague, the city where Emperor Gojong sent confidential emissaries headed by Yi Jun to the Second Peace Conference in 1907 to proclaim the invalidity of Japan's deprival of Korea's diplomatic rights two years earlier.
The Korean representatives were denied entry to the gatherings, which prompted Yi to kill himself. In 1910, Japan annexed Korea.
"It may be burdensome for Park to have a summit in The Hague with an unrepentant Japanese leader," Shin said.