MINNESOTA MAN CONFESSES TO KILLING OF JACOB WETTERLING
MINNEAPOLIS (AP) — A Minnesota man confessed Tuesday to abducting and killing 11-year-old Jacob Wetterling nearly 27 years ago, recounting a crime that long haunted the state with details that included Jacob asking right after he was taken: "What did I do wrong?"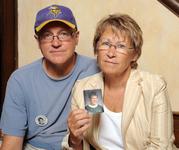 Danny Heinrich, 53, of Annandale, made the admission as he pleaded guilty to a federal child pornography charge that could keep him locked up for at least 20 years, with civil commitment possible after that.
Asked whether he abducted, sexually assaulted and murdered Jacob, Heinrich said: "Yes, I did."
In the years after Jacob's disappearance, his mother Patty became a nationally known advocate for missing children. A 1994 federal law named for Jacob requires states to establish sex offender registries.
With Patty and Jacob's father, Jerry Wetterling, in a packed courtroom, Heinrich described donning a mask and confronting Jacob and two friends with a revolver near Jacob's central Minnesota home of St. Joseph on Oct. 22, 1989.
Heinrich said he told the two friends to run, handcuffed Jacob and drove him to a gravel pit near Paynesville, where he assaulted him. Afterward, Jacob asked whether he was taking him home.
"I said I can't take you all the way home," Heinrich said. "He started to cry. I said, 'Don't cry.'"
Heinrich said at some point a patrol car with siren and lights passing nearby caused him to panic. He said he pulled out his revolver, which had not been loaded, and put two rounds in the gun. He said he told Jacob to turn around. He held the gun to the boy's head and pulled the trigger. The gun didn't fire. Heinrich said he pulled the trigger a second time, the gun fired and Jacob fell to the ground.
He said he buried Jacob about 100 yards away. He said he returned to the site about a year later and saw that Jacob's jacket and some bones had become exposed.
"I gathered up as much as I could and put it in the bag and transported it across the highway" to a field, and reburied the remains, he said. Sobbing could be heard in the courtroom as Heinrich described the crime.
Heinrich led authorities to Jacob's buried remains in a central Minnesota field last week. His remains were identified Saturday.
"It's incredibly painful to know his last days, last hours, last minutes," Patty Wetterling said. "To us Jacob was alive, until they found him."
Prosecutors said the Wetterling family was consulted on and approved the plea agreement, which required Heinrich to give a detailed confession and tell them where to find Jacob.
Authorities named Heinrich as a person of interest in Jacob's disappearance last October when they announced the child pornography charges.
Heinrich had long been under investigators' scrutiny. They first questioned him shortly after Jacob's abduction, but he maintained his innocence and they never had enough evidence to charge him. They turned a renewed spotlight on him as part of a fresh look into Jacob's abduction around its 25th anniversary.
As part of that effort, investigators took another look at the sexual assault of 12-year-old Jared Scheierl, of Cold Spring, nine months before Jacob's disappearance. Investigators had long suspected the two cases were connected.
Using technology that wasn't available in 1989, investigators found Heinrich's DNA on Scheierl's sweatshirt, and used that evidence to get a search warrant for Heinrich's home, where they found a large collection of child pornography. The statute of limitations had expired for charging him in the assault on Scheierl, but a grand jury indicted him on 25 child pornography counts.
The AP typically doesn't identify victims of sexual assault, but Scheierl has spoken publicly for years about his case, saying it helped him cope with the trauma and that he hoped it could help investigators find his attacker and Jacob's kidnapper.
Jacob's abduction shattered childhood innocence for many rural Minnesotans, changing the way parents let their kids roam. His smiling face was burned into Minnesota's psyche, appearing on countless posters and billboards over the years.
His mother, Patty Wetterling, always kept hope her son would be found alive. She became a national advocate for missing children, and with her husband, Jerry Wetterling, founded the Jacob Wetterling Resource Center, which works to help communities and families prevent child exploitation. In 1994, Congress passed a law named after Jacob that requires states to establish sex offender registries.