Middle-income class shrinking
By Choi Kyong-ae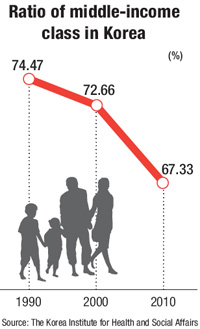 The nation's middle-income class has been shrinking, with polarization between the rich and poor deepening in the wake of the prolonged economic slump.
Given that the middle-income class has traditionally been the backbone of the economy, its collapse risks reducing tax revenue and undermining economic growth in the long term, a local think-tank report said Monday.
According to the Korea Institute for Health and Social Affairs (KIHASA), Monday, the average monthly earnings for all income classes climbed to 1.79 million won ($1,700) per person in 2010, compared to 1.41 million won in 2000 and 920,000 won in 1990.
The middle-income bracket declined to 67.33 percent of all classes in 2010 from 74.47 percent in 1990, according to data offered by the state-funded research institute.
"A decline in the middle-income class would result in lower tax income and worsen the fiscal balance of the country," Won Jong-wook, a senior research fellow at KIHASA, said by telephone.
In the report released Monday, the KIHASA said the middle-income bracket has been declining over the past two decades.
A small percentage of middle-income people joined the upper-income class, while the majority of them have fallen to the lower-income class particularly since the 1998 financial crisis, the report said.
"Some salaried workers at conglomerates and other financially-stable companies have advanced to the high-income class as their income levels continued to rise in the 20-year period," said Won. "In contrast, owners of financially-weak businesses, poor self-employed workers and contract-based workers fell into the category of the lower-income class as the growth rate of their income levels slowed down."
Unlike the KIHASA report, several other surveys conducted by local polling companies and research institutes are showing different results.
The Hyundai Research Institute found in a recent survey that half of the 1,000 respondents replied they belonged to the low-income brackets. They selected lack of job security, growing debts, higher education costs for their children and decreased value of their assets as the reasons.
According to a survey by the East Asia Institute in 2009, Koreans thought middle-income households who earn 5.36 million won a month, have at least 380 million won in cash and cash equivalents, properties worth 660 million won and a midsize sedan per family.
"A widening gap between the rich and the poor makes more people think they are part of the lower middle-income class or low-income class," said Won.
Early this year, the government said it was seeking to restore the ratio of the middle-income class to 70 percent of the population. It also plans to announce its revised indicators of what constitutes middle class in March next year.