International food chains target breakfast market in Korea
By Park Ji-won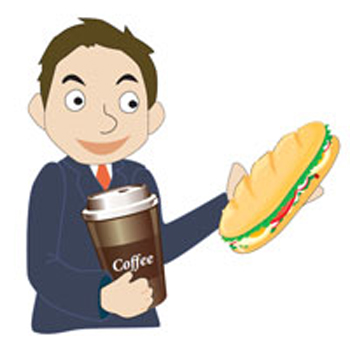 While rice has long been the most popular breakfast food in Korean culture, bread is mounting a challenge for that title as more and more people avail themselves to convenient western food, especially on busy mornings.
"I usually eat sandwiches in a coffee shop or from the morning menu in franchise hamburger chains because they are quick and easy," Kim Jong-hoon, 31, an office worker for a major food company, said.
The entire landscape of morning meals in Korea has begun to change. Foreign food companies are jumping into the breakfast market, even threatening market-leader McDonald's.
"I am happy to hear of the introduction of comfort food these days, because I can't eat rice and spicy foods for breakfast. When I first came here a few years ago, it wasn't like this," Canadian Ted Smith, 27, said.
Dunkin' Donuts, an American franchise operated by SPC Group, released its breakfast menu on Oct. 25 for the first time in Korea, announcing that it believes the morning offerings will serve as the firm's new growth engine.
"Dunkin' Donuts has been making an effort for more than a year to attract long-term customers by strengthening food selections as the firm's strategy," said Sung Gi-an, an official at BR Korea, operator of Dunkin' Donuts.
The four new menu items are so-called "western food." Dunkin' Donuts serves breakfast items until 11 a.m., with prices ranging between 2,900 and 3,900 won.
"We researched McDonald's a lot because it is the leader of breakfast menus as a foreign franchise restaurant here," Sung added.
It is hard to measure the market size of western-style breakfast because there hasn't been such a market before McDonald's introduced its "McMorning" breakfast menu in November 2006.
"We don't think they are competitors. We are just trying to meet customers' needs," Ryu Ji-eun an official at McDonald's Korea, said.
Dunkin' is not the only competitor. Subway Korea, an American sandwich food franchise, also announced it will release a new breakfast menu on Friday. The firm had 66 stores as of Oct. 30.
"The firm introduced the menu four years ago. We felt it was necessary to boost the morning menu because there is a customer demand," said Ko Eun-ju, an official at Subway Korea.
Starbucks Korea is another strong player. Even though they are not a full-sized food restaurant, they have their own morning set, providing more than 20 kinds of bread and cozy seats for customers. The firm announced last month that it will strengthen the food lineup with 17 new healthy menu items beginning Nov. 23.
The firms are not only releasing new menu items but also engaging in fierce competition by boosting marketing to raise customer awareness. "Our goal is to meet customers' needs as much as we can in various ways," said Sung at Dunkin' Donuts.
The firm released an application that functions as an alarm clock and provides promotional information. The firm is also providing discounts and coupons.
Subway Korea also planned to use sample taster groups to promote its new menu offerings. "It is all about meeting customers' needs as much as possible, so we will put more energy into promotions from now on," Ko at Subway Korea said.