DODGERS ROUT GIANTS 9-3 TO EXTEND NL WEST LEAD TO 6 GAMES
LOS ANGELES (AP) — Yasiel Puig's three-run homer highlighted a five-run first inning and the Los Angeles Dodgers routed the San Francisco Giants 9-3 on Wednesday night, extending their NL West lead to six games with 10 remaining.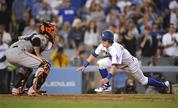 The Dodgers pounded out 12 hits in taking two of three from the rival Giants, who remained tied in the NL wild-card race after both the Mets and Cardinals lost earlier. The Dodgers conclude the regular season with three games at San Francisco next week.
Kenta Maeda (16-9) allowed two runs and three hits in five innings while improving to 4-0 against the Giants this season. The right-hander struck out six and walked one in making his 30th start of the season for just the second time in his career. Maeda is one win from tying Rick Sutcliffe's record by a rookie set in 1979.
Matt Moore (11-12) gave up six runs and seven hits in one inning, walked one and struck out none in a messy outing for the left-hander who had pitched exceptionally well at Dodger Stadium.
He was one out away from throwing his first career no-hitter on Aug. 25 in Los Angeles when Corey Seager broke it up with a single. Moore previously held the Dodgers to just one unearned run in 15 1/3 innings.
After winning Monday's opener 2-1 in the ninth inning, the Dodgers lost Tuesday's game 2-0.
This one wasn't close after the first.
The Dodgers took a 5-1 lead in the bottom of that inning on Puig's 11th homer and RBI singles by Adrian Gonzalez and Maeda.
They made it 6-2 in the second on Justin Turner's sacrifice fly. Howie Kendrick doubled in two more runs with two outs in the third. The Dodgers added another run on pinch-hitter Andrew Toles' RBI double in the sixth.
The Giants' runs came on Angel Pagan's RBI single in the first, Ehire Adrianza's homer in the second and Brandon Belt's RBI single in the sixth.
TRAINER'S ROOM
Giants: RHP Johnny Cueto had an MRI on Wednesday that confirmed a Grade 1 groin strain, which forced him out of his start in the sixth inning Tuesday. He's questionable for his next start and manager Bruce Bochy said Cueto could be out up to a week. The team hasn't finalized a contingency plan. … SS Brandon Crawford came out of Tuesday's victory with a dislocated left pinky on his glove hand in the second. He'll return as soon as he feels able, Bochy said.
Dodgers: LHP Scott Kazmir comes off the disabled list to start Friday against Colorado after missing nearly a month with neck inflammation. He's expected to throw about 90 pitches, but will be monitored. He threw a 35-pitch bullpen session on Tuesday.
REELIN' IT IN
Dodgers outfielders Kike Hernandez and Puig made dramatic catches in the fourth. A charging Hernandez caught Belt's fly ball to center, landing on his front side fully stretched for the second out of the inning. Puig tracked Joe Panik's ball over his shoulder, made the catch and, with his momentum carrying him, climbed a step up on the right field scoreboard before jumping down to end the inning.
TROUBLE BEHIND THE PLATE
Dodgers catcher Carlos Ruiz had a troublesome first that led to the Giants' first run. Denard Span walked and took second on a passed ball by Ruiz before Pagan singled to right. Puig's throw to the plate bounced once and Ruiz missed the tag in a close play.
VISITING VIN
Bochy visited retiring Dodgers broadcaster Vin Scully before the game, joining a long list of opposing managers and players who've done so this season. They chatted in Scully's fifth-floor booth, where Bochy said he could "see where he does his magic."
"I was telling him all the memories that go through my head," the manager said. "I've been coming to the ballpark for 21 years; he's been here 67 years. He's an incredible man who has done so much for the game."
UP NEXT
Giants: RHP Jeff Samardzija (11-10, 3.97 ERA) starts the series opener against the Padres. He's 3-1 with a 4.31 ERA in five starts against them this season. He's struggled in his last two outings, allowing nine runs (eight earned) in 11.0 innings.
Dodgers: LHP Brett Anderson (0-2, 24.75) starts the series opener against the Rockies for the first time since Aug. 20 after being on the disabled list with a blister on his left index finger. He's made just two other starts this season after going 10-9 in 31 starts last season.