CLINTON LAWYER: MORE QUESTIONS ABOUT EMAIL SERVER 'FUTILE'
WASHINGTON (AP) — Hillary Clinton's lawyer said in a court filing Tuesday it would be "futile" for a federal judge to order the former secretary of state to answer questions under oath about her use of a private email server.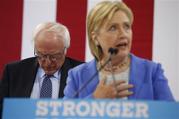 Clinton lawyer David Kendall said a request from a conservative legal group to depose the presumptive Democratic nominee is an improper "fishing expedition." Judicial Watch has asked U.S. District Judge Emmet G. Sullivan to allow them to question Clinton as part of a long-running lawsuit.
Kendall says Clinton has already answered questions to the FBI as part of its now-closed criminal probe into whether classified material was mishandled, as well as to the congressional committee investigating the 2012 Benghazi attacks that killed four Americans.
In a separate legal filing Tuesday, the government disclosed a letter from the FBI saying the agency will provide the State Department with copies of hundreds of work-related emails from Clinton's account. The emails, which Clinton failed to disclose among the roughly 55,000 pages she provided last year, were recovered through the course of the FBI probe.
At issue in the Judicial Watch lawsuit is whether the State Department conducted an adequate search of public records in response to a Freedom of Information Act request. The group has filed several lawsuits seeking records from government agencies related to Clinton's tenure as the nation's top diplomat from 2009 to 2013.
Sullivan previously approved requests for several of Clinton's closest aides to submit to questions, including for Clinton Chief of Staff Cheryl Mills and Deputy Chief of Staff Huma Abedin. Judicial Watch lawyers pressed the current and former State Department officials on whether Clinton's exclusive use of private emails amounted to an effort to sidestep public records requests.
Kendall dismissed those concerns in his argument, saying there was "no evidence that the purpose of the clintonemail.com system was to thwart FOIA." He cited recent comments from FBI Director James Comey to back up Clinton's own statements that she used the private server simply as a matter of convenience.
Comey said last week that Clinton took that line in her interview with FBI agents. Kendall said that Clinton's comment in a 2010 email that she worried that any use of a State email account might risk the "personal being accessible" did not need to be explored further in a deposition because it had already been explained by Abedin, who said Clinton did not want to expose any of her private emails.
"The meaning of Secretary Clinton's statement is obvious on its face," Kendall said.
Kendall also echoed Clinton's own previous contention that she thought her "emails were being captured and preserved in the Department's record-keeping systems." He added that even if she was mistaken, her use of the private account was "transparent to State Department officials, including those responsible for records management."
State department officials previously testified that they were vaguely aware that she was messaging with them from a private account, but emphasized that they were unaware she was exclusively using private emails or a private server to conduct all government business.
Kendall cited a 1980 case involving State Department records held by former secretary of State Henry Kissinger, who had removed transcriptions of agency telephone recordings. The Supreme Court ruled in the case that even if Kissinger's removal of the records violated the Federal Records Act, the district court in the case lacked authority to order their return to the State Department.
Kendall did not mention the politically-freighted possibility that a video deposition of Clinton could end up being used against the candidate in media ads by political action committees supporting Donald Trump. But in a footnote, Kendall said that if the judge does decide to allow a deposition, he urged Sullivan "to allow Secretary Clinton to provide information in writing."
"Requiring her to sit for a deposition for the purpose of repeating her prior statement or stating that she has no knowledge of certain topics would serve no useful purpose," Kendall wrote.
Sullivan has scheduled a July 18 hearing to hear arguments on whether he should allow Judicial Watch to depose Clinton.
The State Department said in a separate motion that it also opposes allowing depositions by Clinton and two other officials. Government lawyers told Sullivan that Judicial Watch "has not revealed a shred of evidence indicating an intent" by the agency to evade federal public records laws.