BALTUSROL READY TO HOST FINAL MAJOR OF THE YEAR
SPRINGFIELD, N.J. (AP) — Defending champion Jason Day got his first look at Baltusrol on Wednesday – one day before the start of the PGA Championship.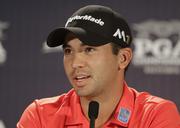 Day is an example of how the Olympics have crowded the golf schedule this year. He went from the British Open to Toronto to defend his title in the Canadian Open, and now he plays the final major of the year.
The world's No. 1 player decided to take Monday off to conserve his energy, and then he missed Tuesday because he was sick. Day typically gets to a major venue the weekend before.
The 28-year-old Australian is trying to join Tiger Woods as the only back-to-back winners of the PGA Championship in stroke play.