Antisocial networking
Detaching from a world shaped by social media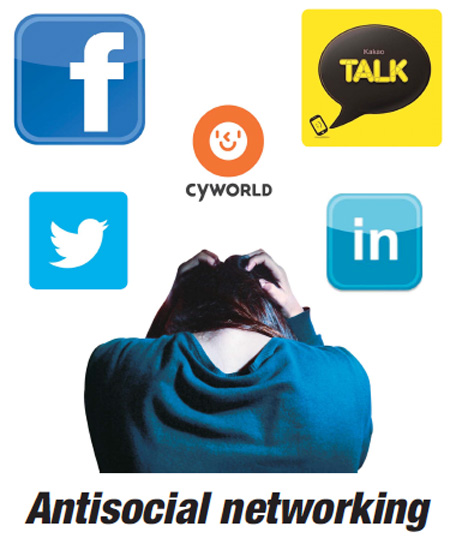 By Baek Byung-yeul
The movie "Disconnect" was one of this year's Hollywood clunkers, but it did still resonate with some though not others. The drama, starring Jason Bateman and Hope Davis, centers on a group of people struggling to connect in today's highly wired world.
A hard-working lawyer, attached to his mobile phone, can't find time to communicate with his family. A couple becomes vulnerable after their private details are exposed online. A widowed, retired policeman struggles to raise his cyber-bully son who drives a classmate into attempting suicide. A journalist pursues a career-defining story on a teenager that performs on an adult-only site.
This is a straightforward, unimaginative movie that makes the mistake of announcing its ideas rather than portraying them. But despite its predictably, the movie's description of life shaped by social media, smartphones and the ubiquitous Internet felt too close to home to people like Kim Joon-seo, a 31-year-old businessman who describes himself as a recovering "Twitter addict."
It's been a few months since Kim stopped tweeting. Breaking away from the obsession of always being connected and online, Kim says he feels a significant improvement in his mental health.
"Twitter had been my main medium of connecting with the rest of the world, from accessing information to communicating with my friends and work colleagues. What it deprived me of, however, is the ability to be myself and have my own space," Kim said.
"I was being followed on Twitter by all kinds of people from different backgrounds. I didn't know them in the real world and most of them I will probably never know. There came a point when I felt the need to create a fake account and I didn't want to do that. So I left Twitter.''
Korea has been a fast-growing market for social media, supported by one of the world's highest penetration levels of mobile Internet devices like smartphones and tablet computers. According to industry figures, about 8 million Koreans are on Facebook and 3 million on Twitter. Other popular social networking services include Cyworld and Kakao Story, which benefit from the immense customer pool of Kakao Talk, the mobile-phone instant messaging service.
Of course, it's difficult to complain about privacy on Internet services like Twitter and Facebook when they exist for sharing information with strangers in hopes of adding them to your social network. Privacy is the cost you pay in exchange for expanding your social circle.
But now there seems to be a growing number of people like Kim who find the omnipresence of social media miserable. The reasons are diverse ― the overwhelming influx of data, shallowness of conversations, peer pressure to add friends, fear of Internet addiction and concerns over the protection of personal details.
According to a recent survey of university students by job recruiting website, Albamon, more than 60 percent of the respondents said they were fatigued by social media and were considering reducing usage or disconnecting entirely.
The problem is that these services are designed to be inclusive as possible, making it impossible to open your doors to friends without clearing the path for random strangers who leave you angry, depressed and ultimately lonely.
An extreme cautionary tale would be the death of Song Ji-seon, a former MBC sports reporter, who leapt from her 19th-floor apartment window in 2011 after taking a massive amount of online abuse over her alleged relationship with a professional baseball player. It seemed that Song's tragic mistake was using Twitter, which regrettably made her a magnet of abuse online.
It could be argued that Twitter is essentially a marketing tool masquerading as social media, and some are complaining it's increasingly difficult to filter meaningful information from the sea of corporate re-tweets.
Then there was the recent revelation that the National Intelligence Service (NIS) required its spy agents to post nearly 60,000 Twitter messages during the presidential elections in December last year in an attempt to influence online opinion in favor of ruling party-candidate Park Geun-hye.
"It's increasingly hard to find meaningful information on Twitter, which has become a galaxy of garbage," said Park Ji-hwa, a 36-year-old Seoul worker, who recently killed his Twitter and Facebook accounts.
"You always see a wave of political opinions or corporate promotions tweeted at a ferocious speed, and at some point your head starts to spin. The NIS allegations really do make Twitter look lame and silly."
Another tiring aspect of social media seems to be the ease of connectivity itself, which builds expectations for rapid responsiveness. This often hurts emotional well-being and the quality of real-life communication.
Han, a 40-year-old businessman who didn't want his full name printed, said Kakao Story has often been a source of conflict with his wife.
"I saw my wife's Kakao Story account and they were filled with status updates like 'I'm sick all the time,' 'why do I live like this?' and 'I bet other husbands don't behave like this.' She was openly complaining about me not spending enough time with her," Han said.
"Of course, I could have tried harder to make our relationship better, but I was still angry that she had preferred ranting online all this time instead of talking to me first. It was embarrassing to see her Kakao Story friends leave comments about me when the even don't know me.
"I think that the connectivity of these services fuel a thirst for instant gratification, and people use it as a tool for emotional vomit rather than conveying real thought. This form of communication seems unfortunate, there are clearly better ways to do it.''
Although fatigue is an increasing issue, the majority of social media users may find it difficult to afford quitting them all when these services are reshaping the way they access information and do work.
Shin Kwang-yeong, a professor of sociology at Chung-Ang University, observed that people are becoming more judicial in how much they rely on social media.
"Even for me, social media is important for communicating with my students. It's more convenient than the old ways of putting up a note on the school message board. And I can answer questions from students more effectively," he said.
"However, I have seen students who have left their smartphones at home, literally shake with anxiety and that's discomforting.
"In a way, it's the flipside of the coin. Not all of us need a larger social circle than what our family, friends and colleagues already provide. It is more important for us to use this as a tool, rather than allow it to excessively change how we live our lives."