WHY IT MATTERS: JOBS
WASHINGTON (AP) — THE ISSUE: Tepid income growth and shrinking opportunities for blue-collar workers have kept many Americans anxious about jobs and the economy, seven years after the Great Recession ended.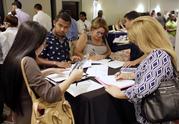 The unemployment rate has fallen to a relatively low 4.9 percent. But many Americans are struggling to keep up with an economy that has been fundamentally transformed since the recession, and is very different from the one their parents experienced.
Most jobs with decent pay require more education than in the past. And some of the best-paying, fastest-growing jobs are in newer fields such as data analytics, computer network security, and software development. Such jobs typically require very specific skills.
WHERE THEY STAND
Trump wants to spur more job creation by reducing regulations and cutting taxes to encourage businesses to expand and hire more.
He also says badly negotiated free trade agreements have cost millions of manufacturing jobs. He promises to bring those jobs back by renegotiating the NAFTA agreement with Canada and Mexico, withdrawing from a proposed Pacific trade pact with 11 other nations, and pushing China to let its currency float freely on international markets.
Clinton has promised to spend $275 billion upgrading roads, tunnels and modern infrastructure such as broadband Internet, to create more construction and engineering jobs. Trump has said in interviews he would spend twice as much.
Clinton also says she would make state colleges and universities tuition-free as well as community colleges. That would enable more Americans to qualify for higher-paying jobs. She plans to pay for these proposals by lifting taxes on wealthier Americans.
—
WHY IT MATTERS
For most Americans, the most obvious measure of the economy's health is whether they have a job, and whether their incomes are rising.
By those measures, the verdict is mixed. Hiring, while initially sluggish, has picked up since the recession ended in June 2009. Job gains in 2014 and 2015 were the highest in any two-year period since 1998-99.
Still, wages have been slower to recover. A typical household's annual income jumped in 2015 by the most in any year on records dating back to 1967, according to recent Census Bureau data. Yet incomes that year were still 1.6 percent below 2007 levels and 2.4 percent below the 1999 peak. Analysts at Sentier Research estimate that household income finally returned to pre-recession levels in July.
Average hourly pay is slowly rising, but the growth rate is below levels that are consistent with a healthy economy.
One factor probably fueling anxiety about jobs and pay has been the disproportionate growth of jobs in lower-paying industries, such as fast-food restaurants, and higher-paying sectors, such as information technology. Middle-income jobs in areas like manufacturing and administrative support barely recovered.
Yet that trend appears to be reversing. The Federal Reserve Bank of New York has found that middle-income job growth – in areas such as trucking and construction – outpaced growth in higher- and lower-paying work in the past two years.
Still, sluggish pay may be one reason many Americans remain on the sidelines. The proportion of Americans working or looking for work has fallen sharply since the recession. It has leveled off in the past two years but remains near 40-year lows. About half that decline reflects increased retirements as the baby boomers age.
Other choices have also played a role, such as the increasing likelihood that young people are in school.
Yet the percentage of Americans in their prime working years – 25 through 54 – who are working or looking for work is about 1.5 percentage points below pre-recession levels. Many have become discouraged about their prospects for finding work and have given up looking. Others have joined the government's disability rolls. Neither group is counted in the unemployment rate.
That is one reason the economy feels less healthy to many Americans than a 4.9 percent unemployment rate would suggest.