VERA WANG BRINGS DARKNESS, MYSTERY TO THE RUNWAY
NEW YORK (AP) — Vera Wang brought a dark, brooding, almost eerie atmosphere to her runway show at New York Fashion Week, with exaggerated proportions like sleeves that extended past the fingers and dangled toward the legs.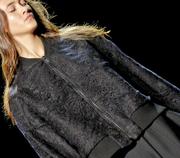 "I loved playing with proportions, juggling all the proportions," the designer said backstage Tuesday. "You can't change the human body, but you can change how you mix your proportions. It's fascinating to me."
Wang famously loves black, and all of her garments were in black or white – but mostly black. And they were unusual: Besides the over-long sleeves – "almost like a glove," she described them – there were a number of structured jackets that had no shoulders.
Wang said the three main concepts she was going for were power, craft and "mystery – dark, dark, mysterious." And also sexy, she added, surely referring to the long filmy skirts that were so sheer, they left absolutely nothing to the imagination.
The skirts were long enough to prove treacherous for the models, who had to wear stiletto-heeled booties and somehow heroically avoid stepping on the skirts. There were a few stumbles, but no washouts.
Admiring Wang's creations from the front row was a high-powered group of tennis star Maria Sharapova on one side of Vogue editor Anna Wintour, and gold-medal Olympic gymnast Simone Biles on the other. Biles sat next to Tony-winning Broadway star Cynthia Erivo. Across from them was film actress Chloe Sevigny.
"It's amazing that she has created this whole lifestyle brand, an empire, and I just like to come out and support powerful women in the industry," Sevigny said. "I think it's nice to do that and there aren't enough of them, so the ones that have created this world like she has should be lifted up and celebrated."
As for Biles, she was enjoying dressing up – in Wang, of course.
"I'm always in a leotard," she said. "I never wear like OUT clothes, but it was super fun and they sent me this outfit and I'm absolutely loving it."
Actress Erivo, star of "The Color Purple" on Broadway, enthused about the structure in Wang's clothes.
"The collection … is really super strong and it had like a Jason Bourne, Renaissance sort of dark feel to it, which I love," she said. "I'm all about structure in something, and it felt really beautifully structured and flowing at the same time."