US STOCKS GAIN FOLLOWING TRUMP VICTORY; BOND PRICES TUMBLE
Major U.S. stock indexes moved higher in morning trading Wednesday as Wall Street sized up the implications of Donald Trump's stunning presidential election victory.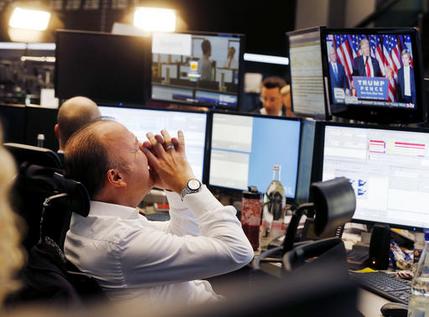 The solid gains marked a reversal from earlier in the morning, when global stock markets were roiled after it became clear that Trump had sealed the win over Hillary Clinton.
Markets had been jittery in recent weeks over the prospect of a Trump administration. But conciliatory comments from the president-elect helped global stock markets recover a large chunk of their earlier losses.
On Wall Street, health care sector companies led the gainers, surging 2.9 percent. Investors had feared Clinton would implement curbs on drug pricing increases that could hurt drugmakers and biotechnology companies. Pfizer jumped 7 percent, the biggest gain in the Dow Jones industrial average.
Financial stocks were also heading sharply higher. Utilities were down the most, sliding 3.3 percent, followed closely by consumer-focused stocks. Crude oil prices also headed lower.
The Dow was up 142 points, or 0.8 percent, to 18,472 as of 11:33 a.m. Eastern Time. The Standard & Poor's 500 index gained 15 points, or 0.7 percent, to 2,154. The Nasdaq composite index rose 37 points, or 0.7 percent, to 5,231.
A sell-off in bonds sent prices tumbling, driving the yield on the 10-year Treasury note up to 1.97 percent from 1.86 percent late Tuesday, a large move. Traders are selling bonds to hedge against the possibility that interest rates, which have been ultra-low for years, could rise steadily again under a Trump administration, said Tom di Galoma, managing director of trading at Seaport Global Securities.
"People are starting to believe that Donald Trump is good for the economy, which makes him not so good for the bond market," di Galoma said. "You've also had the stock market come back overnight. People are starting to realize that a Trump presidency is not the end of the world."
Though uncertainty remains over Trump's trade, immigration and geopolitical policies and what his victory means for the future of globalization, investors appeared somewhat calmed by his victory speech, in which he praised Clinton and urged Americans to "come together as one united people" after a divisive campaign.
"While Trump slightly soothed some concerns in his victory speech, uncertainty remains over what kind of a U.S. he plans to lead," said Craig Erlam, senior market analyst at OANDA.
In Europe, Germany's DAX was up 1.1 percent, while France's CAC-40 gained 1 percent. The FTSE 100 index of leading British shares was 0.6 percent higher.
As Trump gained the lead in the electoral vote count, share prices tumbled in Asia, which were open during the election results.
By the time Trump was confirmed the winner and made his speech, financial markets had steadied. The dollar also recouped some ground, while assets that many investors search out at times of uncertainty, such as gold, came off earlier highs.
One currency that remained heavily sold is the Mexican peso. It was down 8.4 percent as the prospect of a wall along the United States' southern border, a key campaigning point for Trump, has come one step closer to reality. Trump has insisted that Mexico will pay for the wall. The U.S. currency rose sharply to 20.01 Mexican pesos from 18.68 pesos.
Also potentially impacting the peso is Trump's threat to rip up trade deals like the North American Free Trade Agreement, a key plank in Mexico's economic strategy and growth.
"If Trump is able to follow through with these suggestions, Mexican activity will suffer greatly," said Jane Foley, senior foreign exchange strategist at Rabobank International.
Trump doesn't formally take the reins of power until January but he will begin the transition to his presidency almost immediately. In the coming weeks, investors will be looking to see if he further tempers some of the rhetoric that polarized American opinion and often spooked investors in financial markets.
Another point of interest will center on the U.S.'s trade relations with China and its impact across Asia. Trump's victory has raised concerns that the U.S. and China might embark on a trade war of sorts and that protectionism around the world will grow.
Those concerns weighed heavily on Asian stocks. Japan's Nikkei 225 index closed 5.4 percent lower, recouping some losses. Hong Kong's Hang Seng closed 2.2 percent lower.
"Investors will right now be in the process of attempting to differentiate between Trump's actual policy positions and some of the more outlandish statements made on the campaign trail," said Michael Levy, an emerging markets investment director at Barings.
For financial markets as a whole, Trump's victory is the latest manifestation of a backlash against globalization.
Christopher Mahon, Director of Asset Allocation Research at Barings, says Trump's victory is an example of people believing that inequalities in society are a result of globalization. That belief, he says, was behind the unrest in Greece during that country's debt crisis over the past few years as well as Britain's vote in June to leave the European Union.
Mahon says "globalization and the liberal economic consensus is in full retreat" if Trump doesn't temper his views. "It is clear that this next president will have a profound effect on global markets."