United Kingdom leaving EU
On February 20th David Cameron, Britain' s prime minis- ter, set June 23rd as the date for a referendum on the country' s membership of the European Union. His announcement followed a protracted renegotiation of the current conditions of Britain' s membership at a summit in Brussels. The move immediately prompted government ministers to declare their backing for either the"remain" or"leave" campaigns.
Mr. Cameron strongly believes in the benefits of continued EU membership, but a handful of high-profile MPs, including justice secretary, Michael Gove, and London' s mayor Boris Johnson, have pledged support for the"out" campaigners. In early 2015 the chances of a"Brexit" Britain departing from the European Union seemed remote. Today, largely because of Europe' s migration crisis and the interminable euro mess, the polls have narrowed. Some recent surveys even find a majority of Britons wanting to leave. Nearly every market move over the last two weeks has been attributed to the upcoming British refer- endum on whether the United Kingdom should remain with or leave the European Union.
Global stock markets lost about $2 trillion in value on Friday after Britain voted to leave the European Union, while sterling suffered a record one-day plunge to a 31-year low and money poured into havens and government bonds. The move blindsided investors, who had expected Britain to vote to stay in the EU, and sparked sharp repric- ing across asset classes. Stocks tumbled in Europe, Frankfurt, GDAXI and Paris.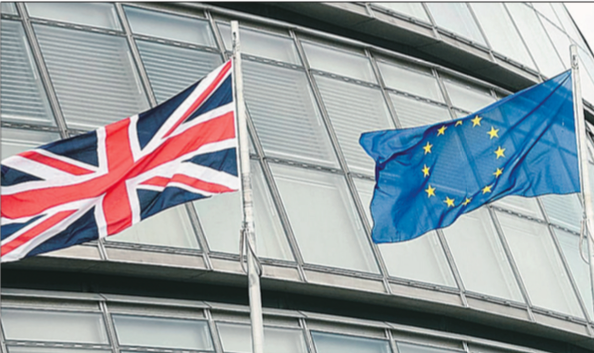 FCHI each fell 7 percent to 8 percent. Italian, FTMIB and Spanish IBEX markets posted their sharpest one-day drops ever, falling more than 12 percent, led by a dive in Euro- pean bank stocks. SX7P, Italy's Unicredit (CRDI.MI), fell 24 percent while Spain' s Banco Santander (SAN.MC) fell 20 percent. Stocks on Wall Street traded down more than 3 percent, with the Dow Jones industrial average dropping as much as 655 points, its worst daily drop in 10 months. The Dow Jones industrial average .DJI fell 611.21 points, or 3.39 percent, to 17,399.86, the S&P 500 .SPX lost 76.02 points, or 3.6 percent, to 2,037.3 and the Nasdaq Composite IXIC dropped 202.06 points, or 4.12 percent, to 4,707.98.