U.S. says working closely with S. Korea to help address short supplies of eggs
WASHINGTON, Jan. 6 (Yonhap) — The U.S. Agriculture Department said Friday it is working with South Korea to give American egg producers access to the Korean market suffering from a shortage of supplies in the wake of a massive outbreak of avian influenza.
"The recent HPAI (High Path Avian Influenza) outbreak in Korea has resulted in short supplies of eggs in Korea and rising egg prices. Consequently, the United States and Korea are engaged in technical discussions to provide access for U.S. egg producers to the Korean liquid egg market," a department spokesperson told Yonhap News Agency.
"Imports from the United States could help limit escalating production costs for processed food manufacturers in Korea and shield consumers from soaring egg prices," the official said without elaborating on when U.S. egg exports could begin.
The spokesperson said that the Agriculture Department is also working with the Korean government and U.S. industry associations to facilitate and expedite registration of additional U.S. suppliers of table eggs to the Korean market.
"In the United States, many government agencies cooperate to ensure the safety of U.S. egg products including the Agricultural Marketing Service, the Animal and Plant Health Inspection Service, the Food Safety and Inspection Service, and the Food and Drug Administration," the official said.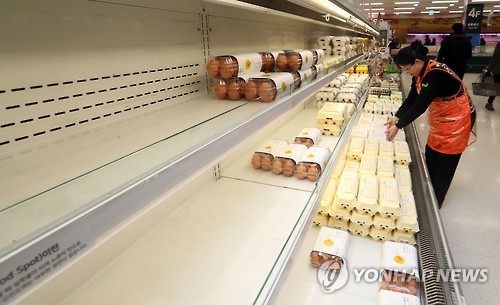 Since the flu outbreak in November, South Korean quarantine officials have slaughtered more than 30.3 million birds, including 25.8 million chickens, resulting in the reduction of the country's daily egg output by about 30 percent, according to government data.
In an effort to encourage imports, the government in Seoul decided earlier this week to remove import tariffs on egg products until June 30. Currently, South Korea imposes 8 to 30 percent tariffs on imported egg products.