TURKISH MILITARY SAYS IT 'FULLY SEIZED CONTROL' OF COUNTRY
ANKARA, Turkey (AP) — Turkey's armed forces said it "fully seized control" of the country Friday and its president responded by calling on Turks to take to the streets in a show of support for the government.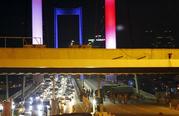 A loud explosion was heard in the capital, Ankara, fighter jets buzzed overhead, gunfire erupted outside military headquarters and vehicles blocked two major bridges in Istanbul.
President Recep Tayyip Erdogan, in an interview over FaceTime with the CNN Turk, dismissed the action as "an attempt at an uprising by a minority within our armed forces." His office declined to disclose his whereabouts saying only that he was in a secure location.
"I'm making a call out to my people. I'm inviting them out to all our public squares. I'm inviting them out to our airports. Let us gather in our squares, at our airports as the people and let that minority group come upon as with their tanks and artillery and do whatever they wish to do," Erdogan said.
Soldiers blocked entry to Ataturk Airport where four tanks were stationed, according to the private Dogan news agency. Two other tanks and a military vehicle were stationed in front of the VIP terminal. The report said the soldiers had entered the tower and stopped all flights.
The military said it seized control "to reinstall the constitutional order, democracy, human rights and freedoms, to ensure that the rule of law once again reigns in the country, for the law and order to be reinstated."
The military statement went on to say that "all international agreements and commitments will remain. We pledge that good relations with all world countries will continue."
Prime Minister Binali Yildirim said that a group within the military has engaged in what appeared to be an attempted coup.
Yildirim told private NTV television: "it is correct that there was an attempt," when asked if there was a coup. Yildirim didn't provide details, but said Turkey would never allow any "initiative that would interrupt democracy."
"We are focusing on the possibility of an attempt (coup)," Yildirim said. "There was an illegal act by a group within the military that was acting out of the chain of military command. Our people should know that we will not allow any activity that would harm democracy."
Military jets were heard flying over Ankara and Istanbul. Gunfire was heard outside Turkey's military headquarters in Ankara, while media reports said ambulances were seen out front.
"There are certain groups who took the arms trusted to them by the state and pointed them toward state employees," Yildirim said. "We shall determine soon who they are. Our security forces have acted against these groups."
The Dogan news agency says one-way traffic on the Bosporus and Fatih Sultan Mehmet bridges were blocked. Video footage showed the bridge being blocked by military vehicles.